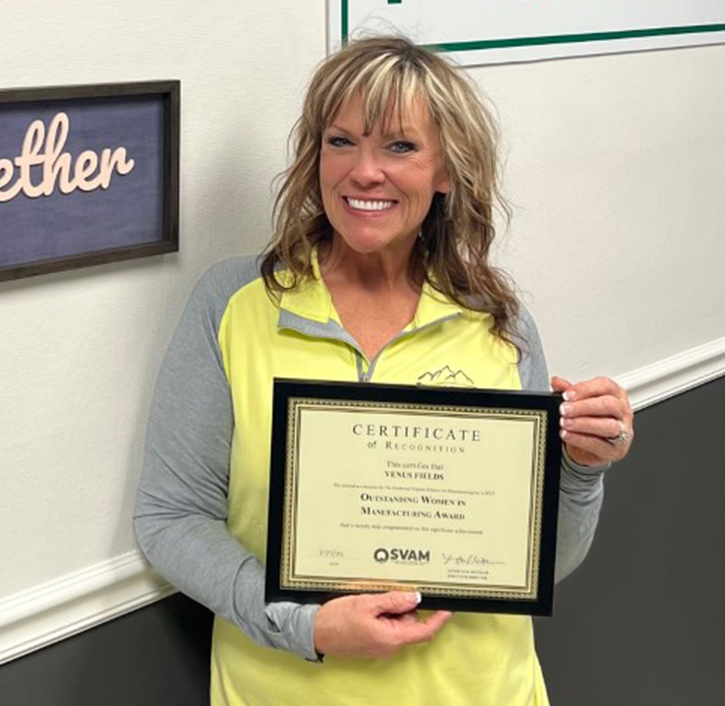 Venus Fields
Sanitation Supervisor
Shearer's Foods
Bristol, VA
"I am truly blessed to be recognized as an Honorary Outstanding Woman in Manufacturing! I would like to thank Shearer's Foods for the opportunity, and the amazing team that surrounds me everyday with support and encouragement. I am honored to be part of such an amazing group of people." – Venus Fields
Venus was nominated by Martha Smith, HR Manager at Shearer's Foods. Martha had the following to say about Venus:
Venus runs a very good department. She and her team keep us in compliance with food manufacturing requirements. We can produce our products in a safe manner because of the work she does.
Venus is a wonderful supervisor. She cares about her team. Not only does she support them, but she also helps them to grow in their positions. She has team building and works to engage the team daily.
Venus is a true leader. She creates and inspires her team members to know the value they add to our company. She can coach and build her team in a way that is more effective at achieving the vision she has shared with them. Not only does she build her team, but she also builds herself. Venus is very active in attending trainings so she can continue to build her strengths and be a better leader.
Venus inspires all those around her. Whether it's her team members, co-workers or leaders. She shares her realistic vision of the department as well as the expectations. She often exceeds those! She interacts with others in a way that is genuine and inspiring. She shares her experiences as a supervisor with others, so they can learn from her. She is wonderful at building working relationships with all those around her.
Venus finds a way to get things done! She uses her ideas and understanding of her team's work to complete their assignments in a safe, efficient manner. She can think outside the box when a solution is needed. She volunteers to help and assist others when needed. When plans change, she can be flexible and determine a new course of action. She embraces change. She has the CAN-DO attitude!
*All information taken from submission nomination form.