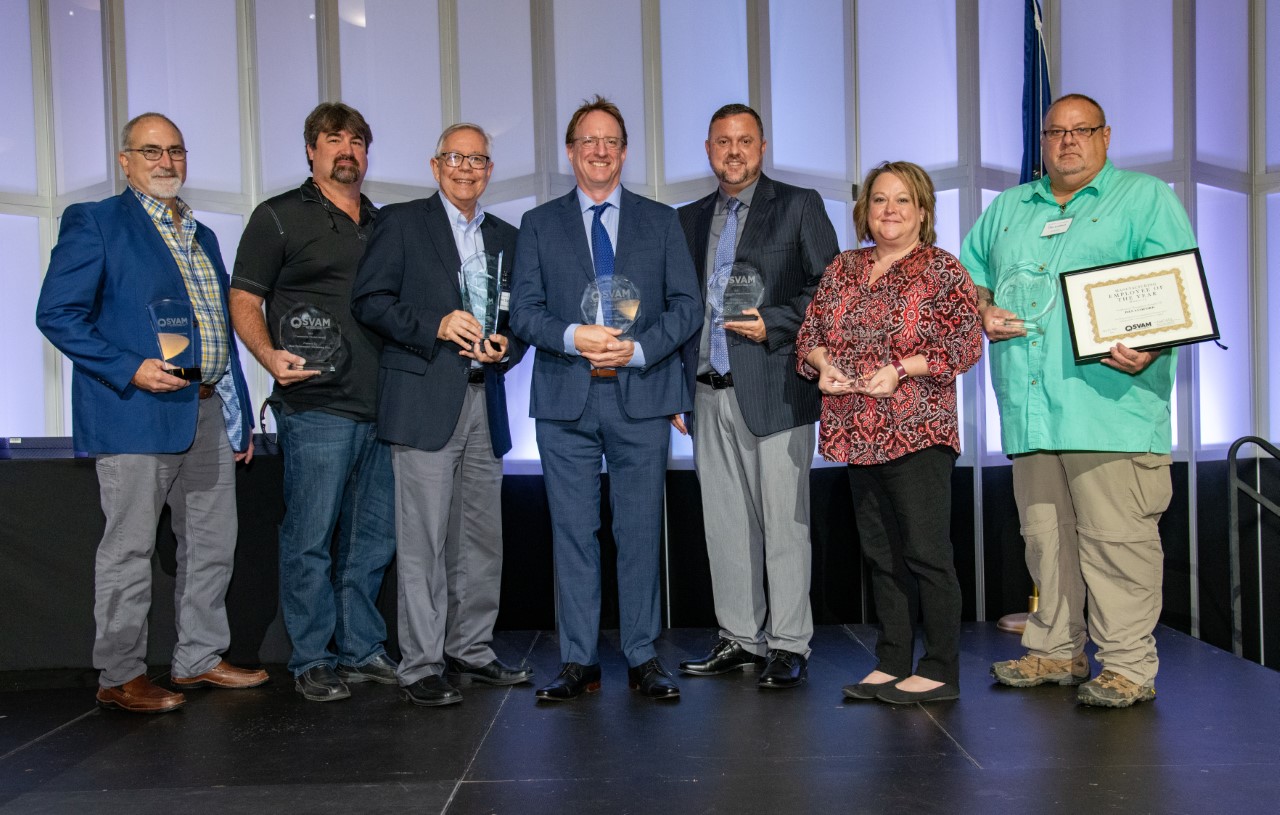 2021 Manufacturing Awards Banquet
The Southwest Virginia Alliance for Manufacturing hosted its annual Manufacturers' Awards Banquet in connection with National Manufacturing Day on Thursday, October 14th. Business and community leaders from across Southwest Virginia gathered at the Southwest Virginia Higher Education Center to celebrate manufacturing and its achievements over the past year.
The focal point of the dinner was the awards ceremony, during which SVAM presented awards in seven categories – each category chosen to showcase to the community the impactful ways manufacturers benefit Southwest Virginia. This is in pursuit of SVAM's goal to change the perception of manufacturing and increase the number of individuals pursuing careers in manufacturing.
Continue reading for information about each of this year's award winners.
Award Winners
Community Impact Award presented to Somic America in Wytheville, VA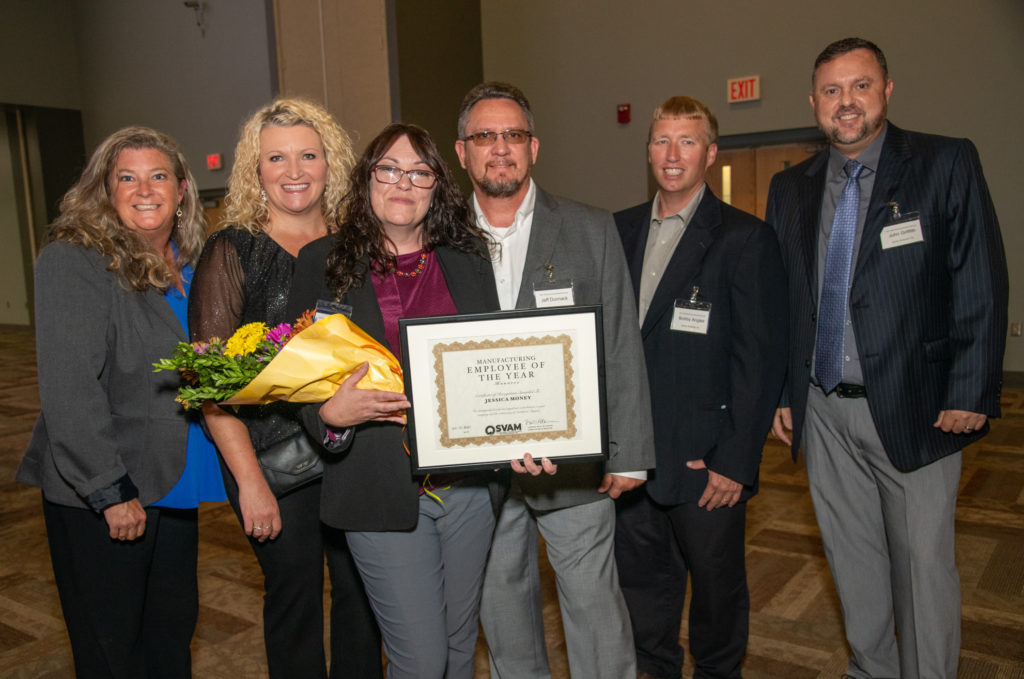 Somic America was chosen for this award because they continually give back to the community through several different avenues and is always open to help local organizations that provide a better quality of life for residents of the greater Wytheville area. One way they do this is through donations to the Wythe Arts Council, a group that promotes arts throughout the year. Somic America supports the Arts Council with monetary donations, prizes for raffles and contests, a salaried employee on the board, and with employee volunteers to assist with operations. They also fund other groups and clubs that range from elementary schools to veteran groups. As well as donating thousands of dollars in sponsorships.
"Somic America is honored to be selected for the Community Impact Award and we look forward to continuing to partner with local organizations to improve our communities and enrich the lives of our employees and neighbors. We are incredibly blessed to live and work in Southwest Virginia and want to do everything possible to continue to make this region the very best it can be.  We will always strive to continually improve not only our internal processes, but also to improve the communities where we live." — Bobby Angles, Process and Asset Planning Manager, Somic America
Environmental Excellence Award presented to Samuel Pressure Vessel Group in Lebanon, VA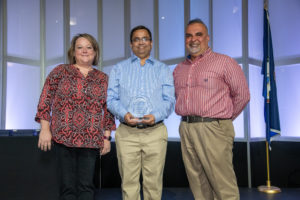 Samuel Pressure Vessel Group was chosen for this award because of the many ways they work to be environmentally friendly. They replaced and upgraded a Sandblast Booth Recovery System to a Blastone System which greatly reduced waste of reusable sandblast and reduced waste sent to the landfill. They also participate in their company's corporate energy program that focuses on reducing carbon footprint, reducing emissions, minimizing and reducing waste generation, and reducing energy costs. They have implemented large scale projects such as changing to an energy efficient lighting system, cutting down on leaks of various gas systems, and installing motion sensing systems to turn off lights. As well as smaller things, like auditing fans and welders usage between shift ends, and educating employees about the importance of energy consumption and its impacts on our planet.
"Samuel Pressure Vessel Group (SPVG) Lebanon is honored to receive the SVAM 2021 Environmental Excellence Award. Corporately and locally, Samuel has been proactive in identifying ways to continue to minimize waste to protect the environment and be good stewards of our resources. One of the more specific actions has been the participation of our Lebanon team members in the Samuel Energy Program which resulted in great success. SPVG is especially proud of this award by SVAM as it reflects our regional industry peers recognition of these achievements." — Siva Thotapalli, EH&S Manager, Samuel Pressure Vessel Group
Innovations in Manufacturing Award presented to Scholle IPN in Chilhowie, VA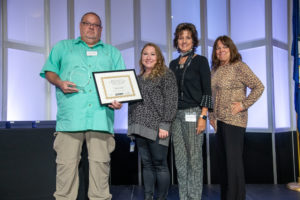 If you've ever been to a restaurant, you've probably had soda or juice from one of Scholle IPN's bag-in-box products. Typically, their products have a unique connector which must be paired with a unique line tubing system. Their innovative product, Versi, means there is no need to worry about connector compatibility. It removes barriers to hooking up any bag-in-box system since it can connect to any system. With the combination of Versi and this company's DipStrip technology, 99% of the bag's contents is dispensed.
Excellence in Safety Award presented to Tadano Mantis Corporation in Richlands and Claypool Hill, VA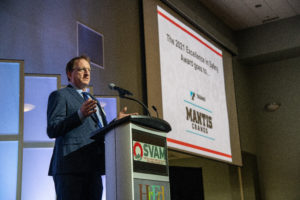 Tadano Mantis Corporation began implementing and training employees on Core Values with safety being number one in those Core Values. They believe that if you place the power of hazard identification and corrective action in the hands of those on the front lines then a company sees a higher percentage of buy-in from employees and a lower percentage of accidents. Each month all employees focus on a monthly target and activity to improve some area where various key performance indicators show the need for improvement. Notably, this company's Claypool Hill facility is sustaining the longest period in company history without a recordable incident. As of the award submission date that number was at 870 days without an incident.
"Being recognized by SVAM especially for TMC's Safety Program is very humbling and unequivocally appreciated. I've worked in manufacturing for over 30 years. The efforts I've witnessed TMC employees make, by embracing the Core Value Program, and OWNING their Safety Program is one of the biggest highlights of my career. To have an organization such as Southwest Virginia Alliance for Manufacturing to share and acknowledge this accomplishment has not only encouraged TMC employees more than I could ever describe, but it's also given management the nudge that we all need to set the standard a little higher and strive to be the safest organization we can possibly be. Thank you so much." — Sean L. Blackwell, Continuous Improvement Supervisor/EHSS, Tadano Mantis Cranes Co.
Community Choice Award presented to Real Performance Machinery in Independence, VA
Real Performance Machinery relocated to Independence less than two years ago. RPM agreed to meet employment and capital investment goals within their first three years in Virginia as part of a relocation package. Despite the ongoing troubles of the COVID-19 pandemic, RPM's leadership has exceeded their three year obligations by fulfilling them in only 18 months. They have hired 35 local employees in their first year in Independence and are looking toward continued growth in the coming months. The addition of RPM has made waves in the Independence community even outside of their office. The assembly line at RPM utilizes 11 local machine shops to fabricate materials for production, adding further benefit to Grayson County's economy. RPM has already met and surpassed their predicted sales for this year, and are completely booked for the next two years before their next availability. RPM moved their headquarters into a renovated barber shop in downtown Independence, and will complete their acquisition of the largest industrial building in Grayson County, the former Core Fitness facility in Independence, in October and will use the space for manufacturing their high-performance goods. When the aforementioned Core Fitness facility vacated a few years ago it took approximately 50 jobs with it. RPM has replaced 35 of those jobs and are looking to replace the other 15 and then some.
​​"Receiving the Community Choice Award from the Southwest Virginia Alliance of Manufacturers is special to RPM. We respect and appreciate the Town of Independence, VA and it's representatives. RPM is proud to represent the town and Grayson County community. We are a highly technical blue collar company doing business in a blue collar community. We openly embrace the opportunity to bring manufacturing back to our rural community and will make this our home for many years to come!" — Michael L. Sawer, CEO, Real Performance Machinery, LLC
Manufacturer of the Year Award presented to General Dynamics Mission Systems in Marion, VA

General Dynamics Mission Systems demonstrates innovation with their focus on designing and building highly specialized equipment for use by the United States military as well as commercial products that are used daily in the aerospace industry.
They positively impact their community with a commitment to environmental quality as well as donations to many organizations in our region. They have invested in energy efficiency to reduce energy consumption resulting in less air pollution and fewer greenhouse gases. During the pandemic they also donated personal protective equipment to Smyth County Community Hospital.
This facility promotes a safe and healthy work environment for their employees through numerous health and safety protocols and practices, from the use of personal protective equipment for everyone to measures to provide protection from accidents and machine failures.
Finally, this company focuses on providing a better quality of life for their employees as well as the communities they support. They strive to make Smyth County and Southwest Virginia a better place for all to live and grow.
Manufacturing Employee of the Year Award presented to Tim Grubb, Hapco Pole Products in Abingdon, VA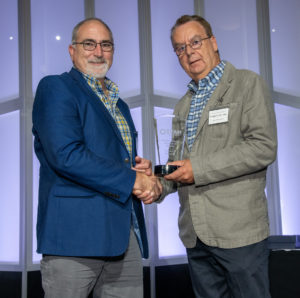 Tim Grubb grew up in manufacturing at Hapco and mastered just about every job and process in the plant. Over 30 years in that role Tim became one of the most valuable and respected employees in the shop. It would be fair to say that no one in Hapco's facility knows more about the process of making poles than Tim. When Hapco had an opening for a CAD Design Tech in the Product Engineering group, it was recognized that if Tim could learn the Design/CAD function, it would be much more beneficial for the company than hiring someone from outside who knows CAD but knows nothing about pole manufacturing. Tim was an obvious choice for the position, so a challenge and opportunity was presented to him. Tim accepted the challenge and over the next few weeks taught himself AutoCAD design basics. He moved into the engineering group and remains one of Hapco's most valued employees both to his new group in product engineering but also to the manufacturing group.