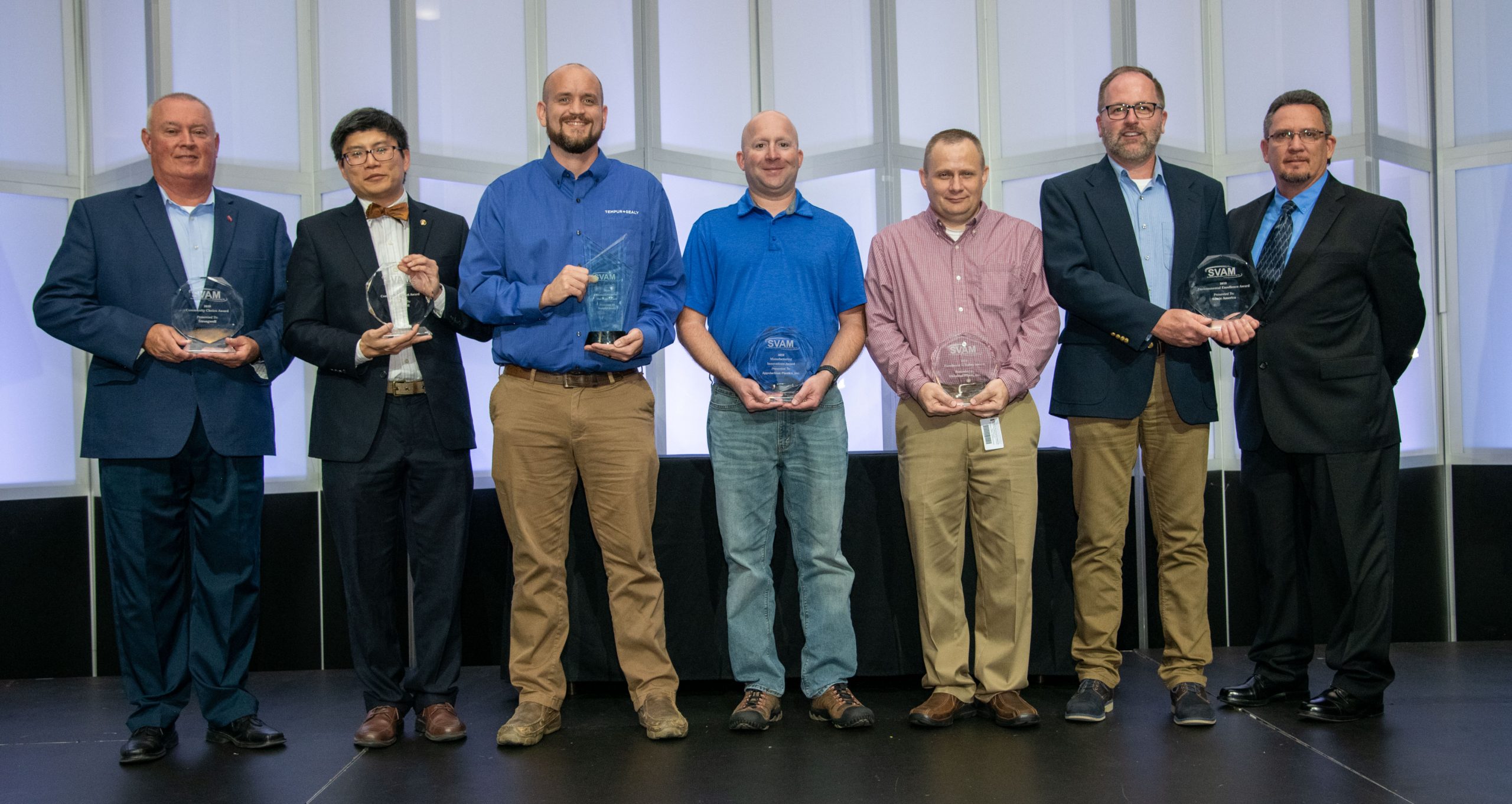 2019 Manufacturing Awards
The Southwest Virginia Alliance for Manufacturing hosted its seventh annual Manufacturers' Awards Banquet in connection with National Manufacturing Day on Thursday, October 3rd. Business, government, and community leaders from across Southwest Virginia gathered at the Southwest Virginia Higher Education Center to celebrate manufacturing and its achievements over the past year.
This year SVAM invited Kathy D'Antoni with the West Virginia Department of Education to give the keynote address. She discussed the Simulated Workplace, a program for CTE students that transforms the classroom experience into a workplace environment. Through this program students organize their own company, create a product or service, and create policies and procedures to run their company. The program has created an educational space geared towards more student involvement. In addition to teaching real-life job skills it has also improved attendance rates.
The focal point of the dinner was to recognize outstanding accomplishments of Southwest Virginia manufacturers – providing recognition to their success and the various ways they positively impact the community. Six manufacturers from all across Southwest Virginia received awards. The Environmental Excellence Award was presented to Somic America of Wytheville, Virginia. The Excellence in Safety Award was presented to Universal Fibers of Bristol, Virginia. The Community Impact Award was presented to Strongwell of Bristol, Virginia. The Innovations in Manufacturing Award was presented to Appalachian Plastics of Glade Spring, Virginia. The Manufacturer of the Year Award was presented to Tempur Sealy of Duffield, Virginia. The Community Choice Award was presented to Strongwell of Bristol, Virginia.
The SVAM CoE graciously supplied "MadeinSWVA" 3-D printed table favors for the event.
SVAM would like to thank its sponsors for this event: United Way of Southwest Virginia, New River/Mount Rogers Workforce Development Board, Manufacturing Technology Center, Southwest Virginia Higher Education Center, Genedge, Neikirk Image Photography, and JGreat Entertainment.
Environmental Excellence Award Presented to Somic America, Wytheville, VA
Somic America is dedicated to doing everything possible to have the smallest environmental footprint. They have a dedicated Safety and Environmental Manager who works diligently each day to make sure that they are abiding in all laws and regulations. They have monthly safety and environmental audits throughout the facility and recycling containers throughout the facility for plastics, aluminum, and paper. They also recycle all of their scrap metal and carbide through reputable vendors. They are able to turn their wooden pallets into fuel for a local lumber mill for the drying of local hardwood, further reducing their landfill waste.
Somic America has an aluminum arm material waste stream for their new Subaru control arm project. This process requires the wet machining of 6061 aluminum and produces waste coolant and aluminum shavings. The easiest way to dispose of the aluminum is to simply dump the shavings into a metal bin and send to recycling. However, Somic America took the initiative to invest more into the waste process to have less environmental waste. They invested in a state of the art aluminum briquette machine that presses all of the coolant out of aluminum chips and makes a solid slug of aluminum that can be transported easier. They are able to reclaim more than 95% of the coolant from the process in this manner which is ran through filtration and re-used instead of wasted when dumping the chips.
Excellence in Safety Award Presented to Universal Fibers®, Bristol, VA
Universal Fibers® places the highest value on the wellbeing of their teammates and the environment with safety being demonstrated from the CEO on down to all associates. All new hires go through a safety orientation that covers all required OSHA topics as well as safety that is unique for the company.
Their vision is to promote an incident free workplace. They accomplish this by empowering everyone to take personal responsibility for their safety and the safety of others. With teammate involvement, continuous improvement of health, safety and environmental performance is expected.
Universal Fibers® administers yearly health screenings for all employees and offers an on-site nurse available for employees to use. Safety Meetings are held monthly covering various related safety topics.
They have implemented a new Safety Walk Through Program. On a Safety Walk Through, personnel from other departments are invited to walk through with them, as they look for safety issues/hazards. This gives a fresh set of eyes to see hazards that they may not see in the course of everyday work. This was implemented in June of this year, and a total of 629 various safety hazards were found. These are hazards that have been seen on these walk throughs, and corrected, that most likely would have never been seen.
Universal Fibers® also started a Green Shirt Program 7 years ago to involve employees into the safety of not only themselves, but for their coworkers as well. Green shirt employees are rotated out every quarter. Green Shirts are to look for safety hazards in the facility, document the hazards per an observation report, and turn in to the Safety Department. These observations are then forwarded to the appropriate department to be resolved.
Community Impact Award presented to Strongwell of Bristol, Virginia
When companies and partner agencies align themselves with Strongwell they are also aligning themselves with the company's Guiding Principles.These principles include: "people are our most important resource", "training is the foundation of improvement", "integrity is never compromised", and "continuous improvement is the key to long term success". As the demographics of our region shift, so has this company's approach to creating value within our community through a social impact footprint. The identified impact areas involve civic participation, wellness, education, and cultural projects which serve regional needs.
Over the past year, over 90 percent of Strongwell's workforce dedicated countless hours working to impact a multitude of needs of the region. Their efforts include participating in projects that address the challenging stigmas related to manufacturing, integrating work environments for those with intellectual and developmental disabilities, supporting employees through times of tragedy, hosting blood drives, an annual "Back to School Supply Drive", and direct monetary sponsorships to a long list of regional organizations that benefit the community in the areas of Health and Wellness, STEM and Education, Arts and Culture, and more.
Innovations in Manufacturing Award presented to Appalachian Plastics of Glade Spring, Virginia
Appalachian Plastics manufactures composite light poles that are seen by millions at theme parks such as SeaWorld. Their light poles serve as a sustainable alternative to traditional wooden poles that woodpeckers were destroying. The composite material of this company's poles were distend to prevent all damage from woodpeckers, maintain the aesthetic look of a tropical landscape of palm trees, and to withstand a category 5 hurricane.
Manufacturer of the Year Award presented to Tempur Sealy of Duffield, Virginia
In 2019, Tempur Sealy added several new products and processes which involved the redesign of their manufacturing line-up and the introduction of a new lines and new products. Their plant maintains excellent Quality, Environmental, and Safety management programs and is pursing the Environmental Protection Agency's EnergyStar certification. For several years they have focused on recycling, waste streams, and reducing their carbon footprint – encouraging their employees to be environmentally friendly not only at the facility, but at home as well. This plant has been a zero landfill facility since June 2014.
Tempur Sealy gives back to their community through support of the Boys and Girls Club of Kingsport, Mountain Empire Community College Golf Tournament which funds scholarships, Rotary, monetary donations to local high schools Rye Cove and Lee High school, donation of their mattresses and pillows for each of the residential homes at Kingswood Home for Children in Bean Station, TN. In April, 50 mattresses were donated to the Health Wagon and distributed in Clinchco, Virginia, located in Dickenson County. The company supports Marsh Regional Blood Center and hosts quarterly donation events onsite for employees to donate blood. Past events have included Relay for Life, Second Harvest Food Bank with both donations of forklifts and boom lifts, as well as volunteering to package food items for Thanksgiving boxes.
Tempur Sealy sees the importance of being an active advocate for Southwest Virginia manufacturing with representatives serving on both the SVAM and SVAM CoE Boards – donating both time and resources in many efforts to further the mission of SVAM. They also have a representatives that serves on the Board of the Manufacturing Technology Council and the Advisory Committee at Mountain Empire Community College providing advice and expertise to these organizations. They've participated in career fairs and opened their facility for tours many times to the community. They are active members of the Scott County, Virginia and Kingsport Tennessee Chambers of Commerce. A representative of the company recently spoke at the Scott County Board of Supervisors meeting on proposed tax hikes that would be costly for local manufacturing in Scott County.
They are proud of their state-of-the-art manufacturing facility that affords their employees a safe, clean, well lit, climate-controlled environment to work in each day. With their current safety culture, effective on-boarding training of employees, and ergonomically designed manufacturing lines that minimize risks – our safety recordable case rate is world class for our industry. The company even provides on-site physical therapists twice per week to assist any employees with any physical needs they might have. The company provides training and opportunity for growth to all employees and strives to promote from within the organization whenever possible.
In the fall of 2018, they began a campaign with their corporation to increase starting wages. While they could have settled for a smaller increase and it still have impact on the lives of their workforce, they felt that all of their manufacturing jobs should have a starting pay of at least $15.00 per hour and that if the starting wages were increased, then other wages also needed to be increased exponentially. The increase was implemented in January 2019.
Community Choice Award presented to Strongwell of Bristol, Virginia
Strongwell was nominated for the Community Choice Award by Marissa Sluss, who completed an internship program there. She stated that Strongwell was not only interested in giving the interns opportunities to learn about the company and have a summer job but the employees and upper management tried to learn from the interns as well. Management was active in finding out how they could play a role in helping interns succeed.
Interns were offered to attend meetings, kick offs, and shops calls to see how Strongwell works. Interns were allowed to work on real customer orders and real situations. They were also encouraged to shadow employees in different positions.
According to Marissa, "Strongwell was at no obligation to allow any interns into the plant, but they did because they want to establish connections with the community and more importantly to establish connections with the next working generations. In addition to the internship program, I found that Strongwell does other outreaches with the University of Tennessee and even with young girls in the STEM programs of the surrounding area. I was, and still am, truly astonished at the initiative Strongwell is taking to connect young people with manufacturing."