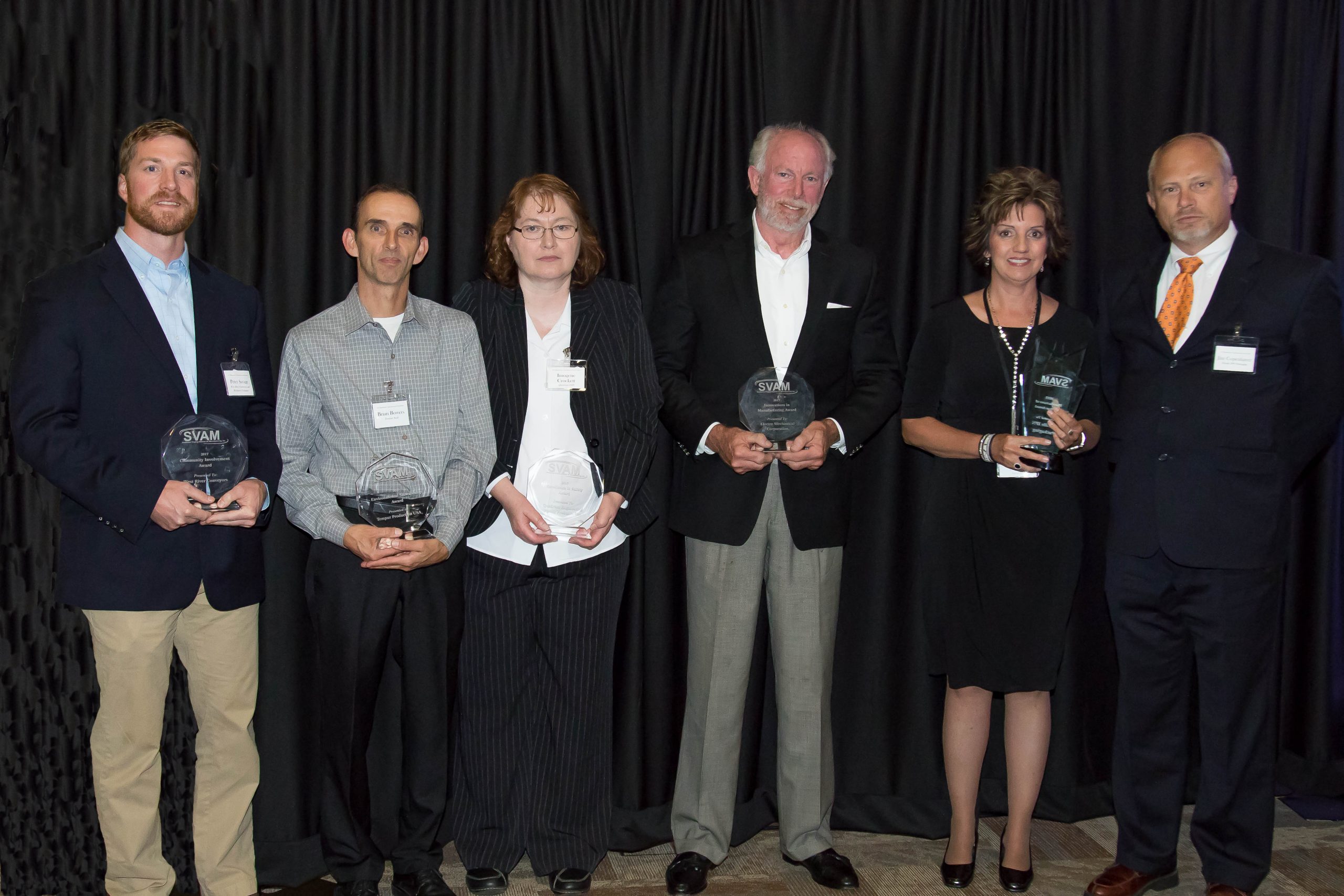 2017 Manufacturing Awards
Nearly one hundred and fifty business, government and community leaders from all across Southwest Virginia gathered at the Southwest Virginia Higher Education Center on Thursday, October 5th, to celebrate manufacturing and its achievements over the past year. At its fourth annual Manufacturers' Appreciation and Awards Dinner, the Southwest Virginia Alliance for Manufacturing hosted this event, in connection with National Manufacturing Day.
This year SVAM invited Dr. Alexander Leonessa, associate professor of mechanical engineering at Virginia Tech, to join us for the evening as our keynote speaker. Dr. Leonessa's address was entitled "The Future of Robotics in Manufacturing". "Funny" and "engaging" were words guests used to describe the methods Dr. Leonessa used to show the audience how robots have impacted both our lives and the world of manufacturing and how they will continue to do so. He explained how robots in manufacturing doesn't mean a loss of jobs, but a creation of new job opportunities such as the job of robot operator/programmer.
During the dinner, 3 certificates were presented to graduating students of the Southwest Virginia Advanced Manufacturing Center of Excellence's Siemens Level 2 Course – the only accelerated Level 2 program in the world.
The focal point of the dinner was to award manufacturers – providing recognition to their success and the various ways they positively impact the community. Five manufacturers from all across Southwest Virginia received awards. The Environmental Stewardship Award was presented to Tempur Production USA of Duffield, Virginia; The Innovations in Manufacturing Award was presented to Electro Mechanical Corporation of Bristol, Virginia; The Excellence in Safety Award was presented to Quadrant Engineering Plastic Products of Wytheville, Virginia; The Community Involvement award was presented to West River Conveyors of Oakwood, Virginia; and the Manufacturer of the Year award was presented to Scholle IPN Packaging of Chilhowie, Virginia. The 2017 Outstanding Woman in Manufacturing Award winner, Mary Myers of The PBE Group, was also recognized during the evening.
Virginia Laser, located in Abingdon, Virginia created and donated laser cut bookmarks in the shape of a robot arm to serve as favors for the dinner.
SVAM would like to thank its sponsors for this event: The Southwest Virginia Higher Education Center , Virginia Economic Development Partnership, United Way of Southwest Virginia, The Manufacturing Technology Center, and The Southwestern Virginia Technology Council.
Environmental Stewardship Award Presented to Tempur Production USA of Duffield, Virginia
Tempur Productions USA is a company that puts safety and the environment first and works tirelessly to reduce energy consumption and lower greenhouse gases for the community. Their EPA Energy Star Program is a join program of the Environmental Protection Agency and the Department of Energy. The goal is to help the company save money and protect the environment through the adoption of energy efficient equipment and practices as well as reduce greenhouse gases. The company has committed to a 10 percent energy reduction over the next 5 years.
Through their focus on landfill elimination, this facility is a zero landfill company and have been since June 2015. They are the only facility in their industrial park that can accommodated electric cars with a rapid-charging station.
Through their lighting upgrade project, Tempur Productions USA has a long-term plan to convert 100% of their lighting to high efficiency LED. All of their exterior lighting has been upgraded and the interior will be upgraded by the end of next year.
Through HVAC upgrades, their entire plant is air conditioned. They have upgraded three of their chillers to high-efficiency design, with the fourth and final unit scheduled to be upgraded by 2018. The roof has recently been upgraded to a white finish to reduce the heat load in the summer months. All the HVAC controllers have been networked to form a 'smart' system which identifies additional opportunities for improvement. This company has partnered with our lighting, HVAC, and air compressors vendors to form an energy team to work on solutions to reduce energy usage while production demands have increased.
In their nomination form, Tempur Productions USA said, "The past year we have been working to change the environmental culture. We not only want the employees to be environmentally friendly at the facility but to take the concept back to their homes and community."
Innovations in Manufacturing Award Presented to Electro Mechanical Corporation of Bristol, Virginia
Electro Mechanical Corporation showed innovation by implementing lean practices to eliminate waste and become more competitive. They produce pad-mounted switch gear. Customer demand for this product had grown beyond this company's ability to produce within a one shift operation. Something had to be done to eliminate waste in the system and increase capability of the line to meet the growing demand. One complicating factor, from a manufacturing standpoint, is that there are over 25 versions of these switch gear enclosures all produced in random sequence on the same assembly line, each having as many as 200 parts. Another complication is that two geographically separated plants are involved in the production and assembly process.
Lean principles were applied beginning in 2012 to eliminate wastes associated with the manufacture and assembly of pad-mounted switchgear.
Successful culture change to become a lean-minded and committed organization is a very difficult task at best. Electro Mechanical Corporation had previous experience with lean efforts but had never made it a continuous method for improvement focused on a particular value stream. 5 years ago, the company committed to a lean journey focused on the pad-mounted switch gear value stream. This year after year commitment was the single most important key to the success we were able to achieve. Where kaizens had been a one-off activity in the past, they are now frequent and commonly accepted occurrences with the workforce. They have included suppliers in their kaizens, implemented concepts observed during their many benchmark trips to auto assembly plants and various manufacturing companies and utilized readily available IT technology to achieve some of the successes.
Since the implementation of these principles, Sales for this product have increased from 30 to 70 units per week and are expected to continue increasing.
Excellence in Safety Award Presented to Quadrant Engineering Plastic Products Of Wytheville, Virginia
Quadrant Engineering Plastic Products says that safety is the foundation and core of the business for their manufacturing facility. Their local facility pursued OSHA VPP STAR Certification and were awarded Virginia Protection Program's STAR status (OSHA's highest designation) in April 2016. Safety is a focus for all levels of leadership throughout this company. Management demonstrates its commitment to Safety and Health procession by actively participating in monthly Safety Patrol audits, safety training, managements of change, and accident/near miss investigations. All employees have opportunities to get involved with different safety and health activities at the facility. New Hires are encouraged to become a member of the Employee Safety committee, PEO team, or help in safety training or the annual health fair. The monthly safety patrols are conducted jointly with the Site Safety Steering Committee and Employee Safety Committee members and the results are saved onto a computer Drive in which all employees have access to review.
Quadrant Engineering Plastic Products has demonstrated significant improvement over previous safety conditions in various ways including: installation of video cameras, implementation of severe weather shelter locations, upgraded lighting throughout the plant, Upgrading process control systems to include additional safety shutdown features, and much more.
They focus on sustaining their safety programs long-term. To maintain VPP STAR status the plant must continually improve and cannot remain stagnant. They chose to pursue this and achieved it because they wanted to have a higher bar than just compliance and to set an expectation of themselves to strive to continue to improve.
Some of their past creative ways they have promoted safety have included: Safety Bingo, Safety card games, safety slogans and safety children's calendar contests, Safety skits performed by the Employee Safety Committee conducted for all employees to watch; recognition of safety milestones by a safety slogan contest with the winning slogan used on a t-shirt for all employees.
Community Involvement Award Presented to West River Conveyors in Oakwood, Virginia
The co-owners of West River Conveyors and Machinery Company believe in giving back to the community where both their company is located and where they were born and raised. This company has widely supported youth activities and charities in its community for the past 36 years. Each year this company's employees participate in the Department of Social Services Angel Tree Christmas Program where they adopt 25 kids to provide for during the holiday season. The company is also involved in supporting youth sports and activities including the local theater youth program.
Other significant youth donations and activities supported by this company include YMCA programs and the sponsorship of a brand-new gymnastics facility in their County. They give to and support Boys & Girls Club of Central Appalachia, Buchanan County Youth Incorporated – a program to keep kids off drugs, Buchanan County Little League sports including band, basketball, baseball, football and cheerleading. Also, each year, this company provides funding for any student unable to afford the class senior trip at all Buchanan County high schools. Just over the past few years, this company has contributed more than $150,000 to youth activities and programs in the community.
Manufacturer of the Year Award Presented to Scholle IPN Packaging of Chilhowie, Virginia
Within the past 20 years, Scholle IPN Packaging has been no stranger to continuous learning and innovation within its 100,000 square foot campus located on 17 acres. As many of you already know, manufacturers are all professional problem solvers. This company encourages a quota-based system which requires employees to identify safety concerns prior to them becoming issues. The system has a 90+ percent participation rate, with employees averaging three times their quota. These suggestions are later examined and implemented with a relationship to quality mindset.
When it comes to Corporate Citizenship, successful manufacturers understand that data points are only useful when they are paired with a sense of community. Production and salaried employees share proactive tools to evaluate and prevent problems which were traditionally approached reactively. In doing so, Scholle IPN Packagin has been able to reduce reactive maintenance by 40 percent year over year, halve changeover time, reduce greenhouse emissions by 24%, reduce its landfill footprint by almost 90%, and is 99.1% accurate on customer orders.
These collective achievements offer a testimonial on what happens when employees are given the task of crafting internal campaigns.
With over 19 locations within 13 different countries, this company allows each campus to mold their humanitarian efforts locally. Environmentally, this campus adopted the road leading into a local industrial park where they are responsible for quarterly trash pickups. They also participate in Earth Day and America Recycles Day by hosting events illustrating recycling and upcycling.
Being in the business of food grade packaging, it was only natural for them to choose hunger as an important issue to address within Southwest Virginia. This facility has hosted multiple food drives for area food banks and is a participant of the backpack assistance program which provides a weekend's worth of food to at-risk students.