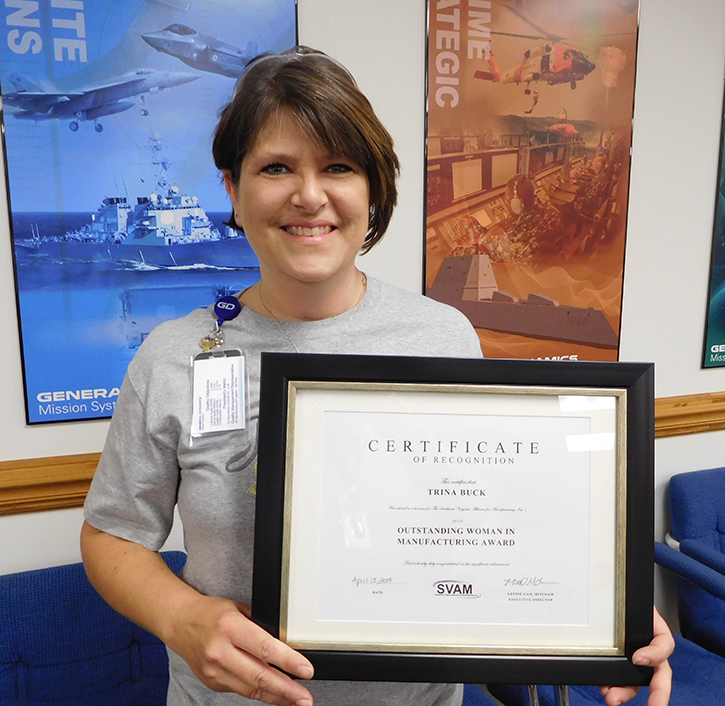 Trina Buck
Lead Laminator A
General Dynamics Mission Systems
Trina Buck has worked for over 16 years in manufacturing as a production laminator at General Dynamics Mission Systems. The list of programs she has worked on is quite noteworthy. She has worked in all (3) of the product areas: Composite Structures, Radomes, and Shelters, each having its own distinct family of products. Some of the programs she has been assigned to include C17, C130, F18, P3, Tri-Band, Gulfstream G500 and G600 Rudders and Elevators, and Shelters. She earned the accomplishment of being a Lead Laminator thru her years of lamination experience, attention to detail, the quality of her work, and her willingness to step up and be one of the best in the lamination field. Trina's technical experience has and continues to be beneficial to the company as she is that go-to operator whenever a new program start-up experiences lamination issues. She enjoys a challenge and the company appreciates her continuous improvement mindset to figure out how to make our manufacturing processes better.
Trina is a member of the UAW (United Auto Workers) Union, Local 2850 at General Dynamics Mission Systems in Marion, VA. She participates in local Union community activities and one that she has participated with several times is the "Feeding the Elderly" food drive that the Union has been leading for over 40 years. She has assisted with collecting money and in 2018, the Union collected $13,500 dollars and provided groceries for 130 families. She is also very active working in her brother's business when she has available time off work from General Dynamics, as she believes supporting her family and their efforts is very important.
Trina is definitely seen as leader in manufacturing. She leads a team of laminators in her production cleanroom. She often serves as a trainer for new-hires, she advocates quality, and makes sure the members in her work area ask her questions if they are unsure of any step in the process or work instructions that they are to follow in their manufacturing process. She willingly puts the needs of the customer and her manufacturing company at the front of her mind every day when she comes to work and stresses to her co-workers for them to do so also. As a leader in her area, she assists Production Control and Production Supervision by making sure her work area does not run out of material, and she assists Engineering by informing them when there is a process or tooling issue that needs their assistance.
Trina is a high performing employee that does what she says she will do. General Dynamics Mission Systems values her opinions on lamination and bonding processes and techniques. With her exceptional work ethic, she proudly does her part to meet or exceed quality and delivery goals and improve productivity and efficiency goals on her assigned programs. She adapts quickly to change and is proactive in solving problems. She is seen as a go-to production operator that enjoys a challenge and is often sought after by Engineering and Production Supervision to provide expertise on lamination related issues. As a leader, she promotes safety in her work place and watches out for her team. She has a strong personal drive to be the best and truly exemplifies what it means to be an Outstanding Woman in Manufacturing as she embraces continuous improvement. By continually improving her skills and techniques through new job assignments, she also encourages other women on the production floor to grow their talents.