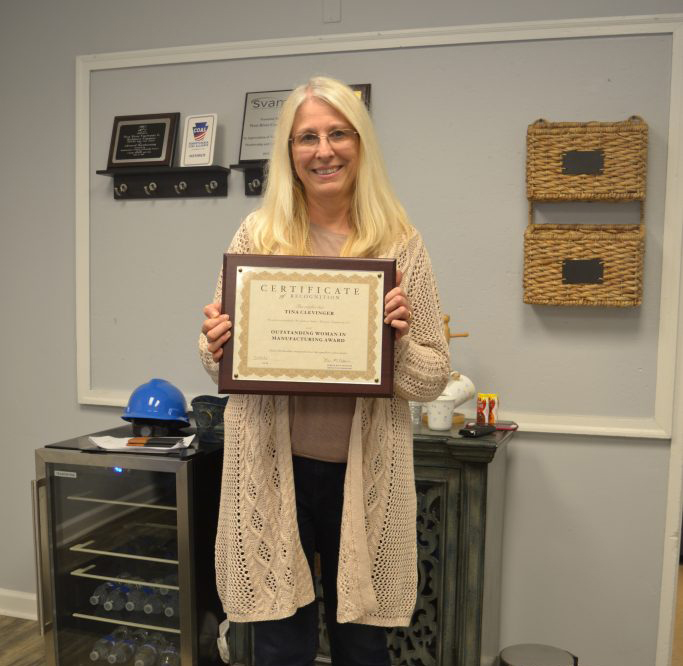 Tina Clevinger
Office Manager
West River Conveyors & Machinery Co.
I am extremely honored to receive the 2018 Outstanding Woman in Manufacturing award. I am grateful for the recognition I have received for my work, but could not do it with out the teamwork at West River.
In the 36 years that Tina has worked at West River Conveyors, she has made many noteworthy contributions over the years. Technological advancements have happened many times over the longevity of the business so she has had to learn new accounting systems and train others to use them as well. Most recently, WRC made its largest technological advancement thus far adding a cloud based customer management system that required Tina to work in a whole new way! She adapted to that change with no problem at all, even making suggestions to make the system a lot better along the way. Having been an employee here for 36 years, she has learned the ins and outs of every facet of the business so noteworthy contributions come regularly when you have Tina's knowledge.
Tina has grown with the company from its humble beginnings into one of the key decision makers in a fast-growing manufacturing business. She has positively impacted the company through her integrity, character, work ethic, and positive thinking. She knows just about anything about the business and is key in answering questions or using her for advice on projects. She is definitely a devoted employee and helpful in any way possible.
Tina is involved in a lot of community service as well as heavily involved in her church. She's helped organize motorcycle ride benefits, Relay For Life events, church leadership and women's conferences, and most recently served for two years as President of Theatre Guild of Buchanan County, Inc. Her leadership there was instrumental in getting the guild off the ground a little over two years ago. This theatre program has taken off and is a growing program in the community.
Being a leader often requires working together as a team and being a leader on a team. One part of Tina's daily tasks include customer quotations and making sure parts and components are ordered for the customer orders that come into the office. Making the entire production happen from start to finish definitely takes team work and she's always willing to share information to help all parties involved so that WRC can make the best product for its customers. She is always a leader in getting products out the door. As mentioned previously, she is a logistical freight master.
"Tina is well-deserving of this award. She stands out among women in an industry most male-dominated. She is not afraid to handle any task and deals with customers, vendors, and employees daily. She's helpful in every interaction and assists the guys in the shop each day. One memory that sticks with me is her persistence in making things happen! There's a mining operation here in our county that is headquartered in Pennsylvania. The operation has never given us the opportunity to quote their underground conveyor projects. We have contacted their main purchasing agent numerous times to no avail. Tina took it upon herself to at least get the purchasing agent to visit our location. For one solid year, she called and emailed him, and sent literature. Finally, he answered a call and said "I'll be over there today." Getting him here was the first step and eventually others from the operation visited and we've been selling to them over the past couple of years. My point in this story is that she isn't afraid to stand out and her voice be heard. Tina can get the job done with anyone and that makes her an outstanding woman in manufacturing." Jessica Savage, Marketing Manager, West River Conveyors