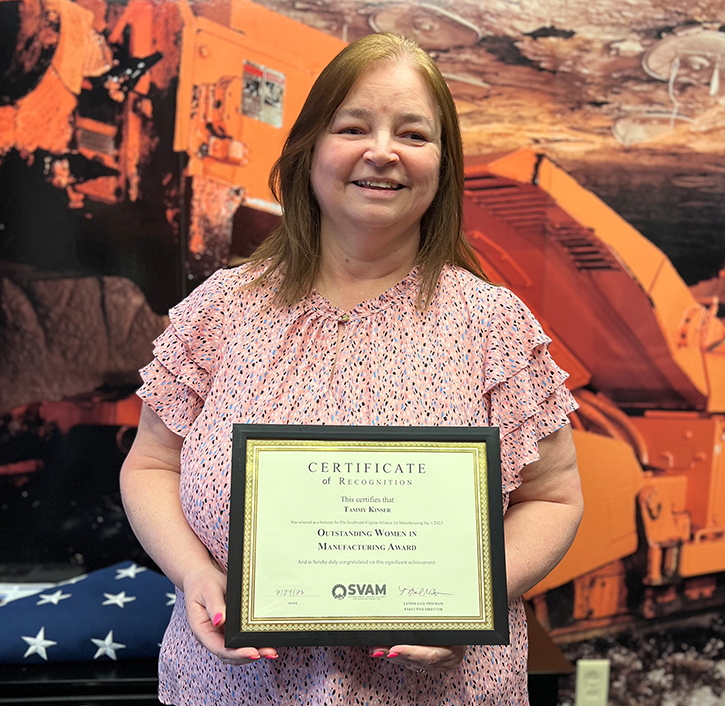 Tammy Kinser
HR Generalist III
Komatsu
Duffield, VA
"I am honored to be recognized by SVAM as a 2023 Honoree for Outstanding Women in Manufacturing. SVAM does an excellent job promoting manufacturing in Southwest Virginia and works hard to keep people in our area. I have been blessed to work for Komatsu/Joy for 34 years and am proud to work for a leading manufacturer of mining equipment. Thank you to the Duffield management and employees for welcoming me to the Duffield Team in 2021 when the Bluefield facility closed. I am extremely blessed to be part of the team and have Pam Seals as a mentor. I look forward to a long relationship between Komatsu and SVAM for the future of manufacturing in our area. Thank you!" – Tammy Kinser
Tammy was nominated by Pam Seals, Senior Regional HR Manager at Komatsu. Pam had the following to say about Tammy:
Tammy began working for our Bluefield VA facility in 1989. She previously worked in Sales and Purchasing before transferring to Human Resources in 2017 and then transferring to the Duffield VA facility in 2021. She has positively impacted our business by developing excellent working relationships with employees in several different facilities in the South and by being an ambassador for making Komatsu an employer of choice.
Tammy has positively impacted her colleagues by always displaying a positive attitude and always being available to solve problems for employees despite working in a semi-remote workspace (she travels to Duffield twice per week from her home in Bluefield VA). She goes out of her way to accommodate special requests from employees to make their "employee experience" valuable.
Tammy has the innate ability to make everyone she encounters feel special. From the executives she supports to the service organization she helps staff, she is there making sure that their questions are answered, their needs are met, and their experiences are valuable. Manufacturing can be a tough arena for women, but Tammy meets this head on with much gusto and confidence. I am extremely happy to have her on my team and am proud of all her accomplishments.
*All information taken from submission nomination form.