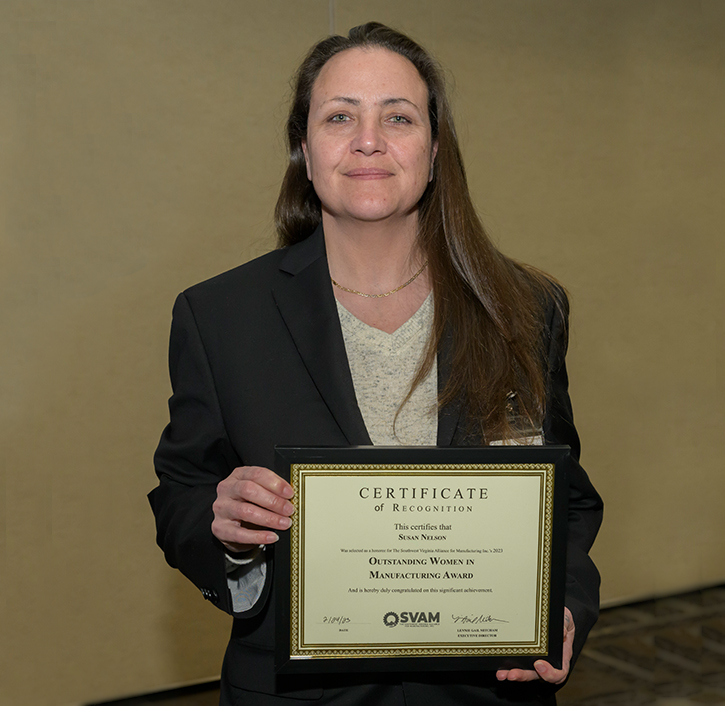 Susan Nelson
Machinist
Real Performance Machinery, LLC
Independence, VA
"I am truly blessed and grateful to have been recognized as one of SVAM'S outstanding women in manufacturing. I would like to thank my RPM team for this opportunity. Congratulations to this year's winners and nominees for their tremendous efforts. Receiving this award re-enforces my self-confidence and gives me strength and courage to take on bigger challenges. Together our integrity and dedications are changing manufacturing and creating new social norms." – Susan Nelson
Susan was nominated by Leah Sawer, CHRO/CFO of RPM, and Justin Dixon, Machining Manager at RPM. Leah and Justin had the following to say about Susan:
Susan Nelson has impacted Real Performance Machinery in many ways since coming to work for us. She brought ten plus years of machining experience and 20 plus in manufacturing in general. Susan is a well-rounded employee. You never have to ask Susan to help. She is always looking for ways to help other workers when they need a helping hand. Susan has been a great trainer for RPM. RPM has been working with the local community college to bring interns in as we grow our business. Susan's personality and demeanor is a big impact in the training of these interns and teaching them how to run CNC equipment.
Susan's personality has a very positive impact on Real Performance Machinery and the people she works with. She is always smiling when she comes to work and she keeps her co-workers in a positive mood. Susan keeps her machines clean and running! She leads by example and tries to impart that to her co-workers. Susan is always looking for more efficient ways to run jobs.
I believe Susan should be the next outstanding woman of manufacturing because she is a great example to women who have technical minds and skills and shows the potential and benefits of a career in manufacturing. When asked why she chose manufacturing (Machining) as her career path, she said she wanted a career that tested her not just mentally but also tested her physically every day. It has been a sustainable way to support her family and take care of her sister when she needed her. She has always been kind of a "jack of all trades" and enjoys working with her hands and the diversity of what machining brings in her day to day work. She is a quick learner and enjoys the challenges her position brings.
When asked what her biggest challenge in being a woman in manufacturing was, she replied, "being heard". She said at previous places where she worked, when she made a recommendation on how to do something different to help in the process, she was sometimes overlooked because of her gender. However, at RPM, she has a team around her that listens and takes her suggestions seriously and allows her to grow as both an employee and a mentor.
Here are some of the things Susan's co-workers say about her:
"Susan is an outstanding worker that helps even when you don't know you need it, it is like she can read minds. She watches out for her co-workers and lends a hand when needed. She is very smart and takes pride in what she does." – Brian Musik, Machining Lead RPM
"She is a very good co-worker and is always willing to help others." – McGuire Osborne, Machine Operator II RPM
"She is knowledgeable and helpful and has helped me to learn since coming to RPM." Machining Apprentice, RPM
*All information taken from submission nomination form.