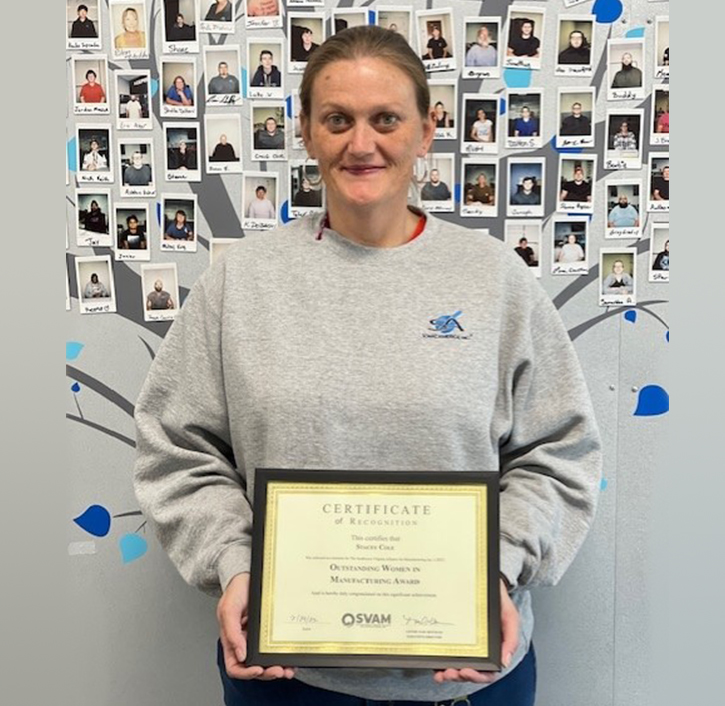 Stacey Cole
Team Leader BU 10
Somic America, Inc.
Wytheville, VA
Stacey was nominated by Tommy Viars, Manufacuring Supervisor at Somic America, Inc. Tommy had the following to say about Stacey:
Stacey is responsible for all production functions and people management in an area that houses 5 Stabilizer Assembly machines and approximately 7 direct reports while working directly with out Quality department, PC team, and the training department. She just celebrated her 10th work anniversary here at Somic!
Like many of our employees, Stacey grew up knowing Somic as a way of life as a 'Somic kid'. It's kind of a family affair around here. Her Mom, Barbara Farmer, a previous nominee for this award, began working here back in 2007, and was instrumental in bringing Stacey into the fold and mentoring her into the model employee she has become. Stacey started as a temporary employee prior to her permanent hire. She has worked as a machine operator, a MPO, and now a Team Leader.
Stacey leads others in a composed, collected, and calm manner – almost quiet. Yet, she has an influence over her employees that exudes care and consideration, without being enabling. There has never been an instance where Stacey has not put an employee need above her own. She makes that her top priority – every time, without fail. And because of her thoughtful and deliberate leadership style, she has the utmost respect from her peers.
Stacey has made it her mission to be a subject matter expert on every machine in her Business Unit. She is a knowledgeable and patient teacher and trainer when a new employee enters her area. She builds quality and lasting relationships with those around her. She is very much respected and held in high regard by the Management team.
I look forward to seeing what's next in Stacey's career here at Somic because she is certainly not done yet! The sky is the limit for her.
*All information taken from submission nomination form.