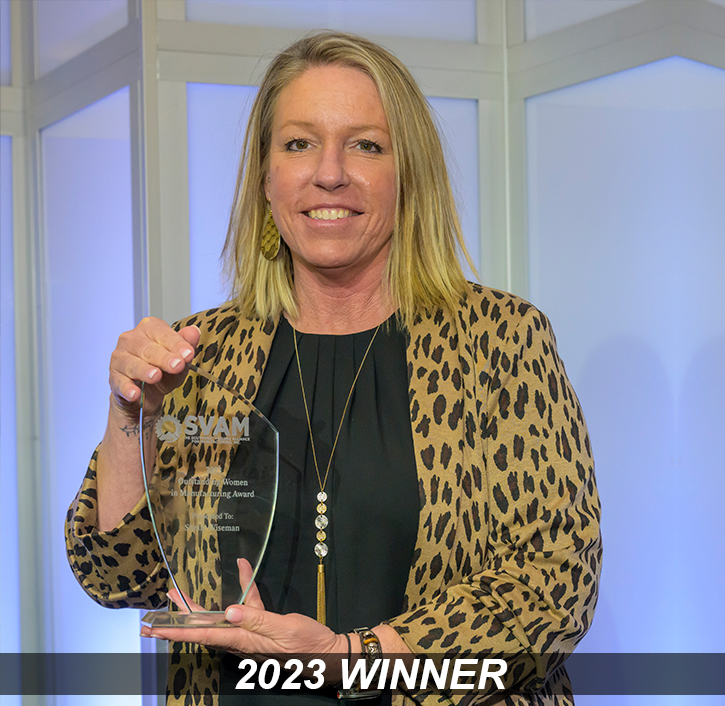 Shelly Wiseman
Materials Manager
Strongwell
Bristol, VA
"I am honored to receive the 2023 Outstanding Woman in Manufacturing award in the Management category. I am excited that organizations like SVAM are empowering women to lead their companies and narrowing the gender gap in the manufacturing workforce. I feel humbled to have been nominated by Strongwell and recognized for the 26 exciting years I've had the privilege to work for them." – Shelly Wiseman
Shelly Wiseman was nominated by her coworker, Tekai Shu, Social Media and Business Development Manager at Strongwell. He had the following to say about Shelly:
Shelly has a voracious appetite for learning, leadership, and mentorship. These traits have driven her to undergo numerous Kaizen, Six Sigma, professional development, and Supply Chain courses. She is currently enrolled in the Supply Chain Optimization program through the Virginia Economic Development Program.
Prior to the great supply chain disruption of 2020-2022, she worked on a solution with her operations team to reduce raw material expenses by 10%. After mastering the sourcing of raw materials, she also reduced raw material inventory by 20% while maintaining nominal raw material lead times with suppliers. This led to Strongwell being able to achieve a consistent customer order delivery goal of 98% with a 3% scrap rate.
In the midst of the recent supply chain disruption and freight transportation gridlock, Shelly worked diligently with her team in navigating multiple challenges. One of those most significant challenges was that over 40 suppliers within the petrochemical industry declared Force Majeure. This declaration immediately placed resin and glass – two of our key raw materials – on an allocation basis. As the force majeure subsided, prices remain elevated, freight logistics remained strained, and a preexisting labor shortage became more exacerbated. Suppliers also refused to provide availability forecasts and long-term pricing on raw materials.
In turn, Shelly used her gained knowledge in guiding raw material logistics, planning, and production scheduling. Processes for raw material inventory became more streamlined, work-in-progress assets were minimalized, and plant loading was balanced. Her diligent work allowed Strongwell to maintain a customer delivery goal percentage of 98% throughout the pandemic and 2022. As a result, the built-in efficiencies have paid off with increased capacity allowing for a 20% year over year sales growth from 2021-2022.
Shelly has progressed into her role as a leader within the organization; she helps and guides others within her group at becoming proficient within their roles and leads by example to grow their leadership skills as well.
With over a quarter century of continuous service to Strongwell, Shelly is a team member who understands the ins- and- outs to our production operation. Her long-term tenure at Strongwell means that she has accumulated and shared silos of legacy knowledge with team members.
She started her career with Strongwell as a contract employee. Her desire to lead and learn was reflected in her career trajectory. Her first full time position was that of an Administrative Assistant within one of internal departments. Eventually, her mastery of ISO documentation protocols advanced her into the position of ISO Document Controller.
Her knowledge of pultrusion machine operations, shipping and delivery logistics, plant loading, and inventory elevated her to the positions of Planner and Master Scheduler for our Virginia Operations group.
Over time, that knowledge grew into procurement knowledge where she led the Purchasing Department as a Purchasing Manager. Those varying responsibilities have guided our team members and our business model.
Shelly's passion for manufacturing didn't happen by chance. Her father was a manufacturing manager for a company in SWVA and that gave her key insights into the potential of the sector.
In previous sections, we provided data and Shelly's history with the Strongwell brand and organization.
Outside of normal hours, her commitment to others highlight service above self. Shelly's direct reports have always shared how she practices empathy with her leadership. She puts faith above all in her drive to success.
When not at work, she is an active member at Highlands Fellowship Church. Her smiles are infectious and that's why she fits right at home as a greeter and leader within the first impressions ministry. For years, she served as a Board Member and Past President with the FRIENDS (Friends, Reaching, Inspiring, Educating, Neighbors About Down Syndrome) – a Down Syndrome Support Group of the Tri-Cities Tennessee / Virginia and supported initiatives by St. Jude Children's Research Hospital. She is also a Board Member of the Special Need Group, Tri-Cities Champions.
In an effort to provide Drake, her son, who has Down Syndrome, with a full baseball experience, Shelly became one of a few host families to house three minor league baseball players from Puerto Rico, Dominican Republic, and the state of Georgia within the Appalachian League system. By the end of the season, Drake had become one of the team's biggest fans and the players became bigger fans of Drake.
At the end of the season, the Wiseman household became a family extension for each of these young ball players. Everyone left learning a little more about baseball, but a lot more about family.
Shelly isn't just an outstanding Woman in Manufacturing, she is an outstanding mother, employee, friend, mentor, manager, leader, coworker, and advocate for those who need it the most.
*All information taken from submission nomination form.