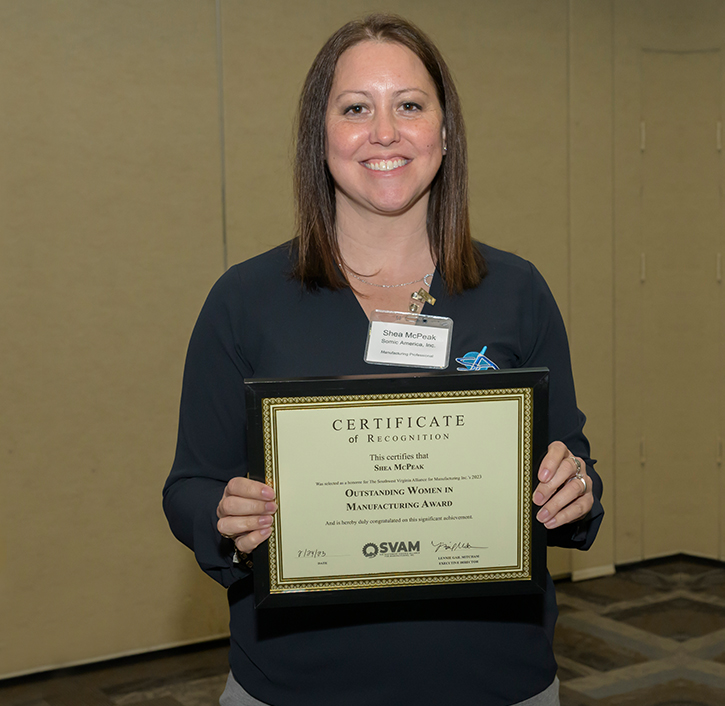 Shea McPeak
Payroll & Benefits Coordinator
Somic America, Inc.
Wytheville, VA
Shea was nominated by Michele Campbell, HR Manager at Somic America, Inc. Michele had the following to say about Shea:
Shea is Somic America's Payroll & Benefits Coordinator. She is responsible for all payroll and time and attendance functions for the entire organization, including our factory in Maine and (2) corporate satellite offices. Additionally, she manages everything from medical insurance to retirement plans to wellness initiatives and leave policies.
Shea has worked at Somic since 2005. She "grew up" with Somic America over the years. Her Dad worked for Somic in our Maine facility and transferred to the Virginia plant in 2005. She started her career as a machine operator here in the Wytheville plant that same year. She left us briefly to work at Wytheville Community College, but returned to Somic after 8 months time, and has been a critical member of the HR department since then.
I can't say enough about her dedication to her role and the level of commitment she has to her large responsibility load. She is often overheard saying "it's all good until you start messing with people's money" – recognizing the importance of serving as the employee advocate and driver for best practices for compensation and benefits. She has laser focus on accuracy in payroll and is continuously driving change toward efficiency in her role. She genuinely cares about delivering HR excellence. She has earned the respect of her superiors and is recognized within the organization as an authentic role model. She easily fosters relationships with others and finds creative ways to assist employees with their needs. Her sincerity and thoughtfulness shine through her personality.
Shea also tackles her work/life balance with graceful determination. I have no idea how she does it. She has 4 daughters that range in age from 6 – 14 years old. That's A LOT of girls, PLUS a husband! And yes, she runs from work to dance class to basketball practice to parent teacher conferences to the grocery to the doctor to cheer practice, to the – you get the picture – all the while making it look effortless. And in the meantime, she is maintaining that personal investment in her career and taking care of everyone at Somic America. This truly embodies the model of an exceptional example of an Outstanding Woman in Manufacturing.
Somic is so fortunate to have Shea on the HR team – her energy and enthusiasm are infectious. She is one to watch! I anticipate that as her career continues to advance, she will serve as a mentor and role model for many, as she is an ideal example of an Outstanding Woman in Manufacturing.
*All information taken from submission nomination form.