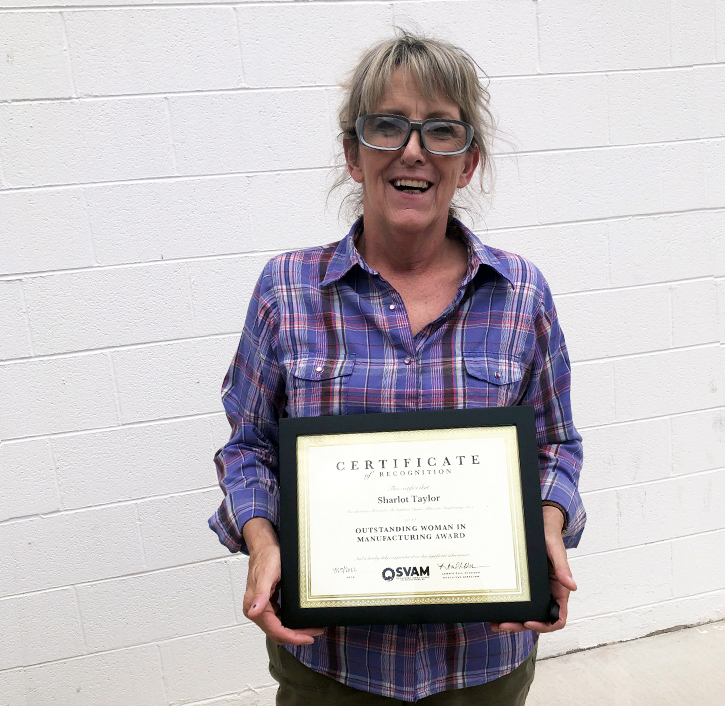 Sharlot Taylor
Heading Operator and Barrel Raiser
Speyside Bourbon Cooperage
Atkins, VA
"It is an honor to be recognized as an Outstanding Woman in Manufacturing! I would like to thank Speyside Bourbon Cooperage, Inc for the opportunity, your support and advice has helped get to where I am today. I am honored to be part of such an outstanding group of women." – Sharlot Taylor
Sharlot is a manager's dream. Highly motivated, she comes to work every day focusing on her goals for that day, and how she will achieve them. A versatile employee, Sharlot handles a few different pieces of equipment in the cooperage. She can raise (build) a barrel or press heads (make the top and bottom of the barrel). More importantly, no matter what job she is assigned to do, she gives that job 110% of her energy. A good example of this is the fact that Sharlot has set production records for the number of heads pressed in an 8-hour period (over 1,000). She can be counted on to mentor and/or train employees in her area. Her positive energy and her go-getter attitude are second to none other in the plant.
Sharlot is the ultimate team player. Whether she is wishing someone a happy birthday on Facebook (which she does to every single person) not only at Atkins but at other Speyside facilities; breaking production records or assembling barrels, she always has a smile and a positive attitude which is infectious. Sharlot is a born motivator. She encourages everyone around her to be a better person. If the situation arises, she has been known to sing to those around her, just to brighten the mood. She is not afraid to let employees know how much they mean to her, and her colleagues respond in turn. Manufacturing can be a tough environment for a
young employee. Sharlot is almost 60 but you would never know it from the amount of positive energy she brings to work every day. She puts a smile on employee's faces. Her work ethic is outstanding and drives her colleagues to perform better in their area as a result.
Sharlot's nominator, Josh Chandler, summed up why Sharlot is an outstanding woman in manufacturing by saying, "I believe Sharlot is the very definition of an Outstanding Woman in Manufacturing. Her work ethic, her ability to motivate and encourage employees by her example, the production records she has set— are all outstanding achievements and she does this every day. It is simply who she is. And we call that outstanding."
*All information taken from submission nomination form.