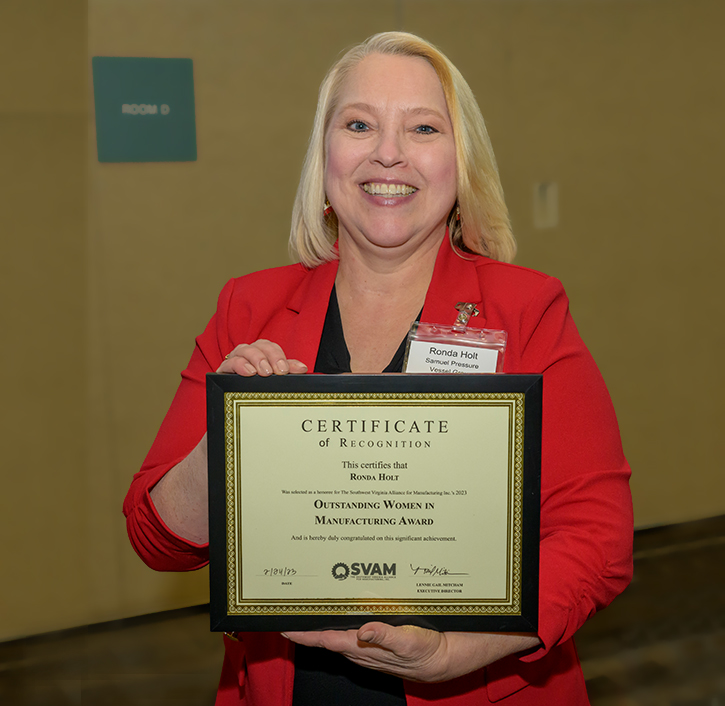 Ronda Holt
Sales Executive
Samuel Pressure Vessel Group
Lebanon, VA
"I am happy to be honored along with such a wonderful group of women that showcase manufacturing in Southwest Virginia. Passion, purpose and hard work produce success and these traits make up the heart of my SPVG family. I may be the honoree but I am nothing without the fantastic team I work with daily." – Ronda Holt
Ronda was nominated by Thomas DePinto, RSM of SE Region at Samuel Pressure Vessel Group. Thomas had the following to say about Ronda:
Through her positive leadership Ronda demonstrates every day in the office and the community to help our organization be successful and help the area with finding jobs for folks in the SWVA. She attends all the SVAM activities and makes sure the organization is helping in every way possible.
Ronda is a ray of sunshine as soon as you walk through the door. She helps in every facet of the office, in sales, HR, Engineering, estimating, etc. She personally helped myself train in our systems and our CRM when I first started with the company, while she had her own duties to handle. She leads by example and makes everyone successful she touches.
Ronda is the most positive PERSON I have seen in a manufacturing company. She brings "CLASS" to the whole industry on her experience and everyone she touches inside and outside the company, especially in the community of Lebanon/Abingdon, VA.
*All information taken from submission nomination form.