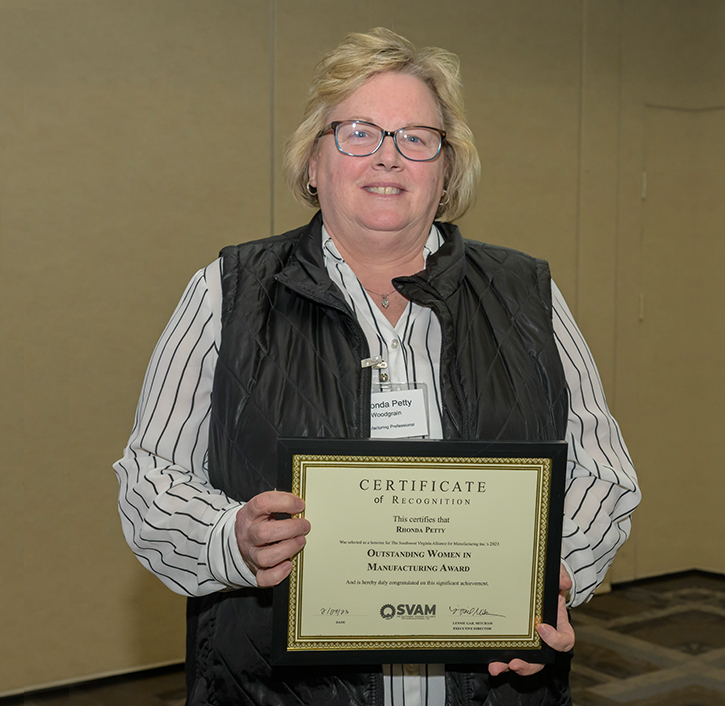 Rhonda Petty
Safety Coordinator
Woodgrain
Marion, VA
"I am honored to have been named as a 2023 honoree of the SVAM Outstanding Woman in Manufacturing. I am humbled by this honor. It's great to see that hard work and dedication pays off. I enjoy working for a great company that rewards you with the opportunity to grow and expand my knowledge." – Rhonda Petty
Rhonda was nominated by Wendi Hurd, HR Manager at Woodgrain. Wendi had the following to say about Rhonda:
Rhonda has worked hard to implement a strong safety program at Woodgrain. During her first year as Safety Coordinator our recordable incidents went down by 50%.
Rhonda has gotten all employees involved in our safety program. More safety cards were put in last year than any year before. She has revived our safety committee.
Rhonda has dedicated herself to manufacturing. She empowers others to be great. She always goes above and beyond in all she does.
*All information taken from submission nomination form.