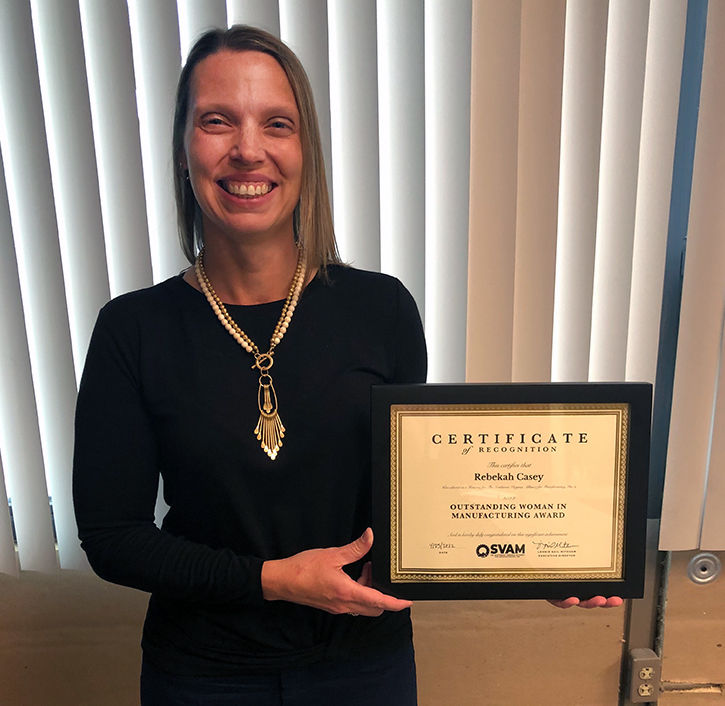 Rebekah Casey
Manufacturing Engineering Administrative Assistant
Hapco
Abingdon, VA
"It's a great privilege and honor to be nominated as an Outstanding Woman in Manufacturing for 2022. I'm proud to be working alongside of other women that are making a difference and promoting growth in our manufacturing industry. Manufacturing is an exciting environment to work in that is ever changing!" – Rebekah Casey
Rebekah has been with Hapco since 2006. She has responsibility for material routings and product costing. With this role she has learned how product moves through the process and the facility. This allows her to provide valuable input on design reviews and project feasibility studies due to that knowledge. She processes routings from the ERP to maintain consistent flow of job orders to the shop floor to maintain production. She also modifies the job orders as process changes occur. Recently her role and title changed to Manufacturing Engineering Administrative Assistant. This has allowed her the opportunity to expand to additional areas like project work and other cost tracking. She has led the project to refurbish the sales office and implementation of the MRO Room (spare parts). This included setting up physical stock locations, the transfer of materials and getting the information into the ERP system (inventory). She has assisted with the implementation of a Work Order system to track equipment downtime. Prior to the Work Order system being implemented, she was tracking Maintenance Task (non-machine related) manually in a spreadsheet. She currently tracks capital expenditures, fork truck and HVAC maintenance including costs, helping to manage these activities. She is leading a project to renovate all restroom facilities in the plant and is also working on a project to reduce the cost of processing job orders to complete her Green Belt certification. By maintaining all these functions, she has a positive impact on Hapco's business. Rebekah has a positive impact on other employees by maintaining the activities that she is responsible for, keeping this information accurate and up to date. Also, by being willing to assist anyone in the facility. She keeps a positive attitude and is always willing to help.
Rebekah's nominator, Carmel Rasnake, summed up why Rebekah is an outstanding woman in manufacturing, "Rebekah is always willing to help with any activities as we expand her role for our department and Hapco while maintaining the work for routings and costings to keep the shop floor running. She may not immediately know what can or should be done, but she is willing to ask questions, follow up, and make phone calls to help determine the options. As already stated, she has taken on additional responsibilities and is developing her skillsets. Some of these activities may not seem to be high priority, but it is necessary and important that these activities be maintained as well for our department's success and for Hapco's success."
*All information taken from submission nomination form.