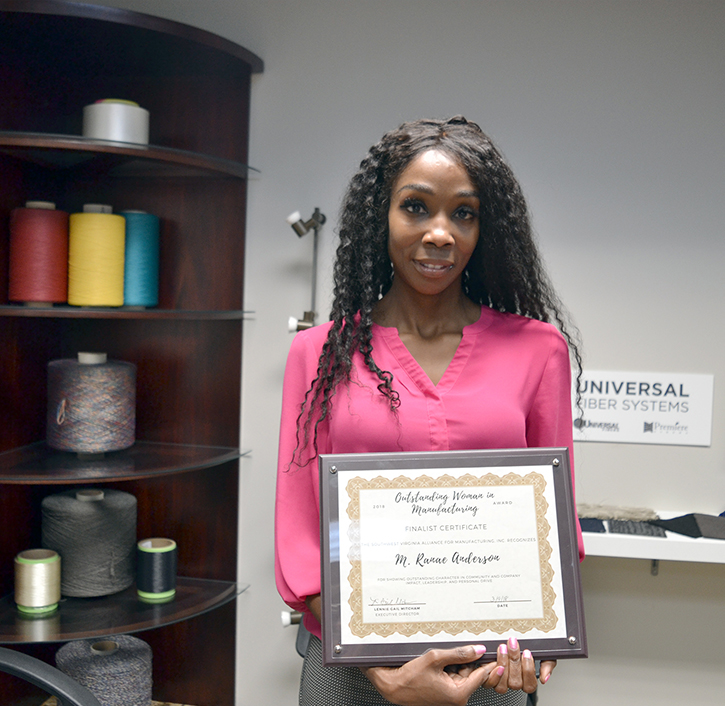 Ranae Anderson
Global, Sustainability Leader
Universal Fibers®
Ranae has exemplified three key leadership traits: a) technical mastery, b) internal team and external / public motivation, and c) effective educational skills. She represents Universal as a director on a national Board, as well as a leader with customers and suppliers in an area critical to Universal's strategy [sustainability] as an organization across the markets it serves.
Virginia Tech secured an NSF grant promoting STEM in rural schools [VT PEERS]. Universal Fibers agreed to be the industrial partner for the 2 Smyth County Middle Schools. Ranae has both led its support and worked hands-on in the classroom. Internally, Ranae has championed an associate workshop: "We Are Sustainable" aimed beyond the workplace – extending to their homes & families. Ranae has led teams of VT undergrad Chemical Engineers through their senior design projects. In her role as a director of CARE, [Carpet America Recovery Effort] she advocates for the industry with entrepreneurs, government regulators, and Environmental NGOs.
Anyone associated with manufacturing knows that there are people you can hands things to – and they come back complete and well done. Ranae is the epitome of that person, and for that reason, has consistently grown in her role and responsibilities. Her flexibility in transitioning from leading the UF Color Team to being the pivot for a key strategy – globally gives testimony.
Ranae has led Universal's process to develop 2020 Sustainability Goals. She has coordinated efforts in North America, Europe, and Asia Pacific to achieve consistent 3rd party certifications for sustainable content, impact, ingredient transparency, and social responsibility. Ranae led efforts to systematize UF's Breathe-3DP subsidiary and to prepare it for ISO 9001 certification.
"Manufacturing, especially today, is a tough environment. To borrow from our USMC, Respect is earned, never given." Across countless instance and a myriad of settings, Ranae has shown the ability to lead by example, to roll up her sleeves, to not quit 'till the job's done, to be as hard as steel, to be as polished as glass, and above all, to genuinely care for others." – Brendan McSheehy, VP – Innovation and IP, Universal Fibers