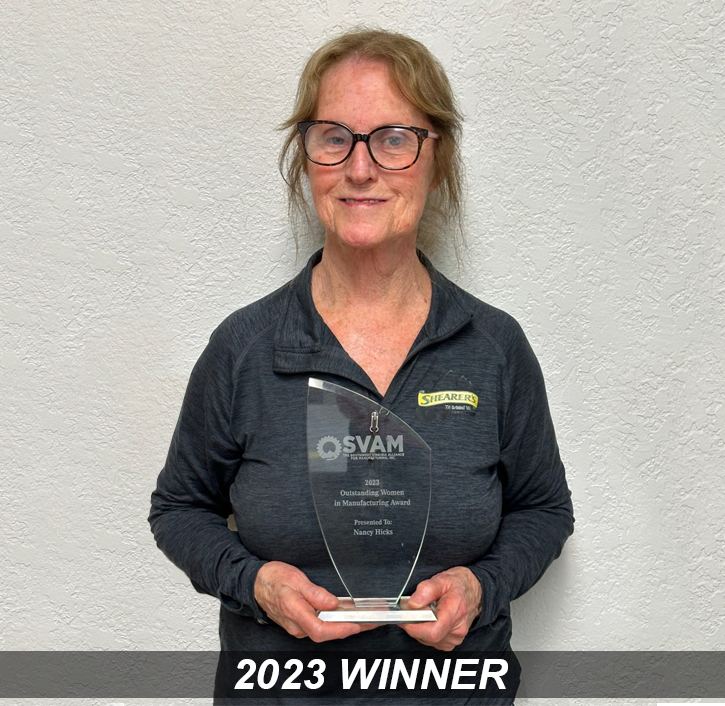 Nancy Hicks
Production Coordinator
Shearer's Foods
Bristol, VA
"It is with great pleasure to accept this award on behalf of all women in manufacturing. Thank you to SVAM for recognizing and appreciating the 43 years of hard work and dedication that I have put in this field. This award has really uplifted my spirit and has made me feel like I have accomplished so much more than I thought I have. I appreciate all of the praise that this award has given me not only through the recognition but from my coworkers as well. This award will allow me to not only contribute to do the work I do, but continue to motivate other women in manufacturing to be all that they can be." – Nancy Hicks
Nancy was nominated by Martha Smith, HR Manager at Shearer's Foods. Martha had the following to say about Nancy:
Nancy has done something that not many people has done. She has worked at this location for her entire career – all 43 years! Because of this, she has worked in many different positions. She knows the equipment and processes. She is invaluable to us.
In Nancy's position as a production coordinator, she interacts with our new employees. She is able to motivate them, as well as being an example of longevity at a company. She demonstrates leadership and a willingness to get the job done.
Nancy has worked with many different supervisors and employees over the years. Because of this, she has developed a unique way of understanding our business and how to meet our plant's goals. She has worked in many different roles. She can use this experience to help our new team members be successful in their new positions. She can speak to them from the perspective of having done the work herself. She knows how long it will take to complete tasks and encourages team members to do quality work.
One of the attributes that Nancy has is the ability to communicate with the teams as well as with the leadership team. She speaks from experience. She can communicate with any employee about work situations in a way that they can understand. This helps to make sure that productions schedules are followed and met.
Being motivated equates to being productive as team members. Nancy is definitely a driver of motivation. She can identify and promote what helps our team members to be engaged in their roles. If there are issues, she is quick to bring them forward. Nancy even assists with the interview process to help identify new employees. She sets a good example for all!
*All information taken from submission nomination form.