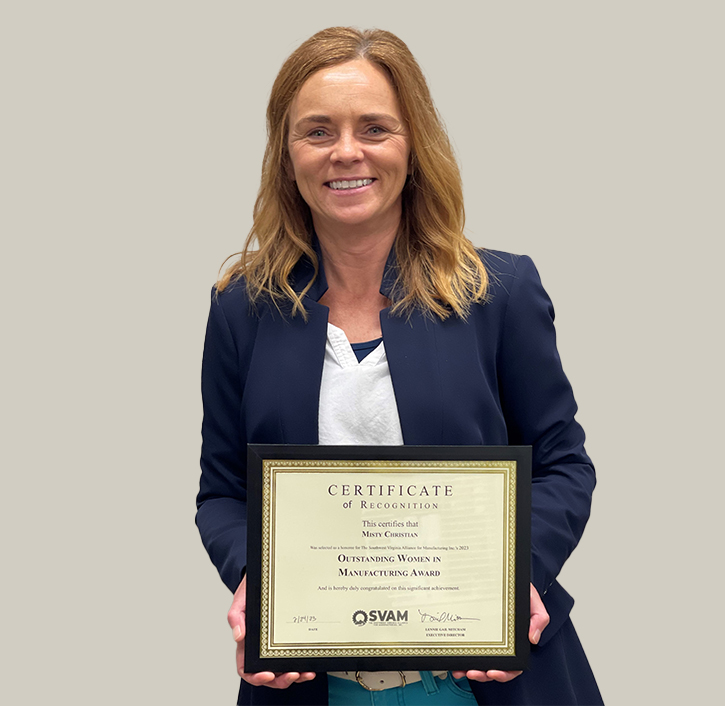 Misty Christian
Human Resources Business Partner
Tempur Pedic
Duffield, VA
Misty was nominated by Brian Bowers, Quality Manager at Tempur Pedic. Brian had the following to say about Misty:
Misty has been an advocate for the employee while helping to move the business forward in a turbulent economy. She has worked flexible hours in order to accommodate a 3 shift operation so that everyone's voice can be heard equally. Misty worked hand in hand with the production staff to manage work force and monitor productivity in a volatile (post covid) demand environment.
Misty also rolled out a corporate recognition program. She organized multiple events to recognize team accomplishments and maintain company morale.
She also worked with production supervision to help develop and boost over 300 employees into learning new job functions within their role.
Misty began her journey in manufacturing in the 90's as an operator, machining precision automotive steering gear components. Misty wanted to contribute more… so over the next 20+ years she held positions as Quality Technician, Production Supervisor, and Inventory Controller.
Her passion, however, was a career in Human Resources so while working full time, she completed her BS degree, and achieved an MBA.
Misty honed her Human resource skills in several capacities, then joined the staff at Tempur Pedic, Duffield, VA as Human Resource Business Partner.
With broad experience throughout many aspects of manufacturing operations, Misty has a profound ability to connect with employees at all levels of the organization. This experience has enabled her to understand the needs of employees and to develop and effectively implement robust initiatives to continually drive positive enhancements into the culture at Tempur Pedic.
*All information taken from submission nomination form.