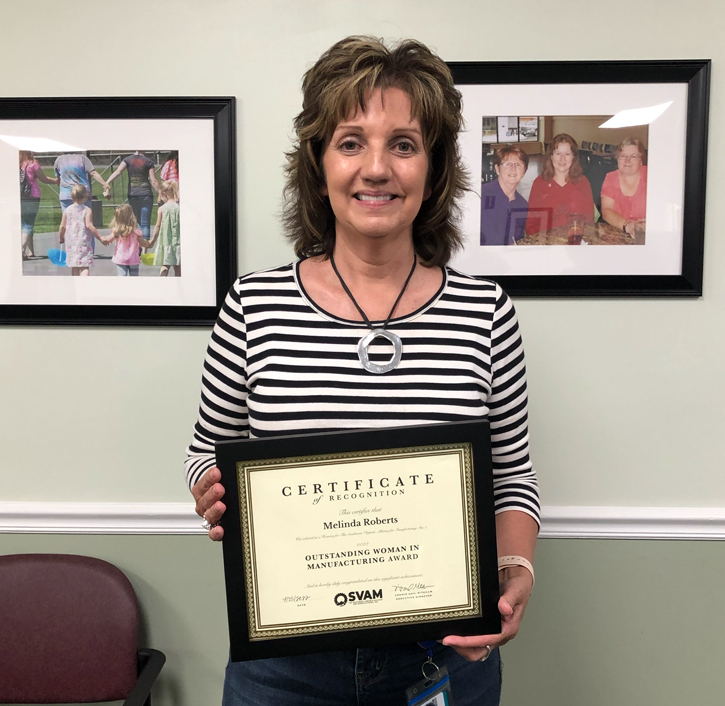 Melinda Roberts
HR Manager
Scholle IPN
Chilhowie, VA
"HR Management has been my life-long career and one that I have been instrumental in facilitating and presenting people and employees with awards. It was a pleasant surprise for me to be on the receiving end, and I am grateful for the recognition as an honoree of SVAM Outstanding Woman in Manufacturing. Thanks to SVAM for spotlighting successful careers of women in manufacturing and my Scholle IPN team who submitted the nomination and continue to provide support." – Melinda Roberts
Melinda is a true champion for Scholle IPN employees. She is constantly looking for new ways to engage current employees and make their work experience better, while also finding new ways to expand the potential employee candidate pool to provide a work opportunity for as many people in the community as possible. She has been integral in bringing grants to the Chilhowie facility to help expansion of the facility, once again, to help expand opportunity for the SWVA community.
Personally, Melinda always brings light to the workplace with her bright personality and joyful spirit. She prides herself on training and lifting other people up to reach their potential and being promoted to higher level positions. Her business is People, and she really does work hard to ensure the people in her business do have the best of the best.
She has always had a positive attitude no matter what the circumstances may be. During the pandemic she has worked tirelessly to keep employees safe. She goes the extra mile for everyone and everything she is involved in. She can always find common ground when talking to employees about personal issues. She knows how to make them feel accepted and safe.
Melinda is a woman working all to represent all her employees fairly and equally. She also loves the manufacturing demographic and believes it can provide a lot of opportunity for the SWVA area and is dedicated to improving and expanding the footprint of manufacturing.
*All information taken from submission nomination form.