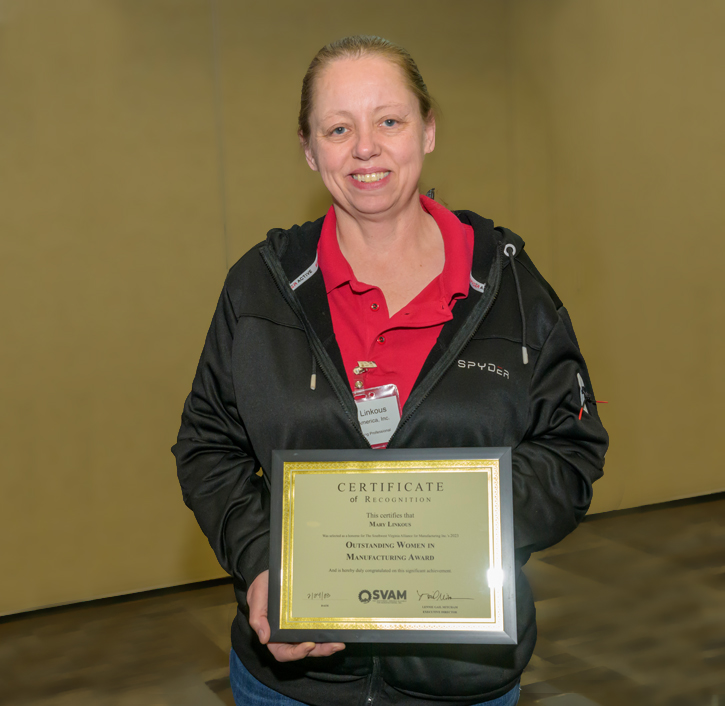 Mary Linkous
Inventory Control Manager
Somic America, Inc.
Wytheville, VA
Mary was nominated by Matt Teague, PC Manager at Somic America, Inc. Matt had the following to say about Mary:
Mary has been with Somic America since 2006, coming up on her 17th anniversary in 2023. In that time, Mary has become the definition of "wearing many hats", and has developed from a machine operator, team leader, supervisor, Manufacturing Manager, and now Inventory Control Manager. She has built a wealth of knowledge and experience that is second to none, often recalling information from her early days as an operator to help us out of a critical situation to ensure our customer is taken care of and our customer needs are met or exceeded. During this time, Mary has been involved and driven many improvement efforts, often bringing the "out of the box" thinking and action that everyone talks about in a conference room.
Mary has weathered the unprecedented times from some of the highest demand we have seen prior to COVID, the shutdown of COVID, and all of the fallout between supply chain constraints, labor shortages, rolling shutdowns and last minute order increases. Somic America ships 143,000 finished parts every day to our OEM partners. Mary is solely responsible to track every point of production from the first step to the last and ensure each of those finished parts ship out the door, on time, every day. Automotive customers do not allow back-orders. To say Mary cares about ensuring our customer needs are met is an understatement. Mary makes it look easy to track and adjust our production on the fly, but we all know her knowledge and care to support our customers are second to none. She is the first person we look to when we meet a road-block, abnormal condition, or constraints.
Mary is also tasked and embraces the challenge of something only board rooms talk about: Synergy. Mary works with all department's across many levels: Managers, Supervisors, Team Leads, and Operators, Engineers, and Technicians. Bringing together a team this large and wide-spread in focus and duties is no easy task. Mary is definition of someone who drives Synergy: bringing together two or more organizations / departments to produce a combined effect greater than the sum of their separate effects. To Mary, she may be Inventory Control Manager, but we are Somic America, and that is Mary's mantra. It is not uncommon to see Mary jump in to run machines, pack / sort product, or provide every aspect of help she can. She does not shy away from adversity, and will take on some of the burden herself that we see in Automotive Manufacturing.
Mary has not gotten to this point however without arguably the most significant piece of who Mary is. Many managers have developed from production floor roots. Mary is within that same category, and someone who has kept her connection to the production floor no matter how far her desk sits away from it. She takes pride in her development to a Manager, especially as one that has "not forgotten her roots". Her connection with every level of team member not only helps within her role, but beyond her role. She is always available to listen, understand, and help advocate for improvements to benefit our most significant asset – the production floor team members. Mary doesn't just see herself as a Manager, but as a part of our production floor that has the opportunity to be a voice and drive improvement.
Somic is beyond fortunate to have Mary Linkous, and I have been blessed with the opportunity to have Mary within my team. Mary is the team member that companies hold onto, not just to develop and watch succeed, but also to learn from along the way. I have the utmost confidence that this committee can also see that Mary is an exceptional example of an Outstanding Woman in Manufacturing.
*All information taken from submission nomination form.