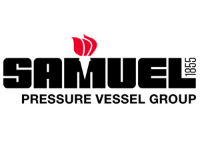 Samuel Pressure Vessel Group
Samuel Pressure Vessel Group is a global leader in the design, manufacture and distribution of pressure vessel solutions with five North American locations. They offer a wide range of capabilities in fabricating stock, custom & engineered-to-order vessel designs. The Lebanon location is among the largest manufacturers of ASME air receivers in North America, producing more than 50,000 pressure vessels per year. As a key supplier to most major compressor OEMs and compressor distributors, the Lebanon operation offers multiple production lines dedicated to pressure vessels ranging from 10" to 72" diameter and carries a large inventory of standard commercial and industrial air receivers for immediate shipment. In addition to providing standard product, the Lebanon facility is capable of fabricating custom vessels with work stations capable of producing vessels up to 180" in diameter.
View available career opportunities here.
Location: Russell County
Category: Manufacturer
Membership Level: Full Member