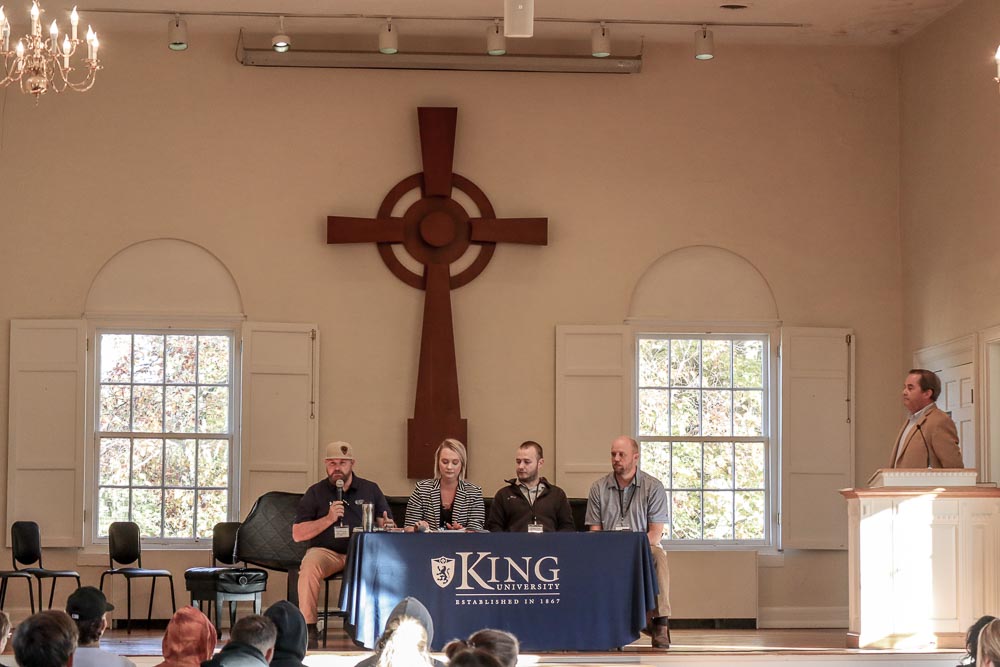 Manufacture Your Career Events – Fall 2023
SVAM recently hosted two Manufacture Your Career panel discussions. The first was at Mountain Empire Community College on September 20th and the second was at King University on October 23rd. The purpose of this program is to encourage students to pursue careers in manufacturing by changing perceptions and educating them about available opportunities. For each event, four panelists spoke to students and faculty about their companies, the benefits of working in manufacturing, and available job opportunities. They answered questions about pay and benefits, why so many have stayed in manufacturing for so long, working environments, ways that Southwest Virginia manufacturing impacts the globe, and much more.
For the Mountain Empire Community College event, those panelists were Richard Rutherford, Conduit Supervisor at VFP, Inc., David Hess, Quality Manager at Tadano Mantis Corporation, Seth Phillips, Materials Manager at Real Performance Machinery, and Austin Phillips, Senior EHS Specialist at Komatsu.
For the King University event, those panelists were Sean Blackwell, Safety Coordinator at Hapco Pole Products, Brandon Crook, Corporate Sales Account Manager at Strongwell, Ragan Proffitt, Production Engineer at Wolf Hills Fabricators, and Nick Dingus, Technical Manager at Cardinal Glass.
After the panel discussion, many students took advantage of the opportunity to network with panelists after the event. Thank you to Matthew Rose with MECC and Finley Green with King University, for hosting us for these events, and to our panelists for helping SVAM accomplish its goals.