Mandi Koziol
Manager
Oak Hall Cap & Gown
"The Southwest Virginia Alliance for Manufacturing is an amazing program that highlights the unsung heroes in manufacturing, women. I am honored to take my place among the ranks of those women who have paved the way for women like myself in the manufacturing industry. I will continue to strive to do my part to perpetuate that culture. Cheers to us all!" – Mandi Koziol
Mandi began her career at Oak Hall as the sole warehouse associate at the Chilhowie manufacturing facility. In 2015, she was instrumental in opening a new manufacturing facility in Independence, VA, getting the sewing machines ordered and set-up, hiring sewers, mechanics and machine operators and complying with all of the internal reports that are required by the home office. She was promoted to Manager two years later and has exceeded expectations as manager of that facility.
She knows every position in that facility from cutting and sewing, to the warehouse and office. With this knowledge comes the ability to train new employees on how to get the job done and coach them in an effort to become successful. She has earned the respect of her employees by being compassionate to their needs while maintaining her authoritative presence within the factory.
Her nominator, Scott Lively, said, "Mandi is bright, ambitious, knowledgeable in many areas, dependable, conscientious of her work, compassionate toward her fellow employees, willing to do what it takes to get that job done, a true leader who leads by example and Oak Hall is extremely fortunate that she is leading one of our manufacturing facilities!"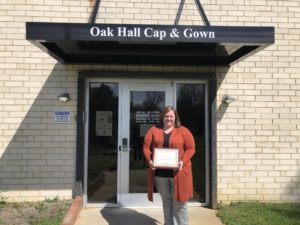 *All information taken from submission nomination form.