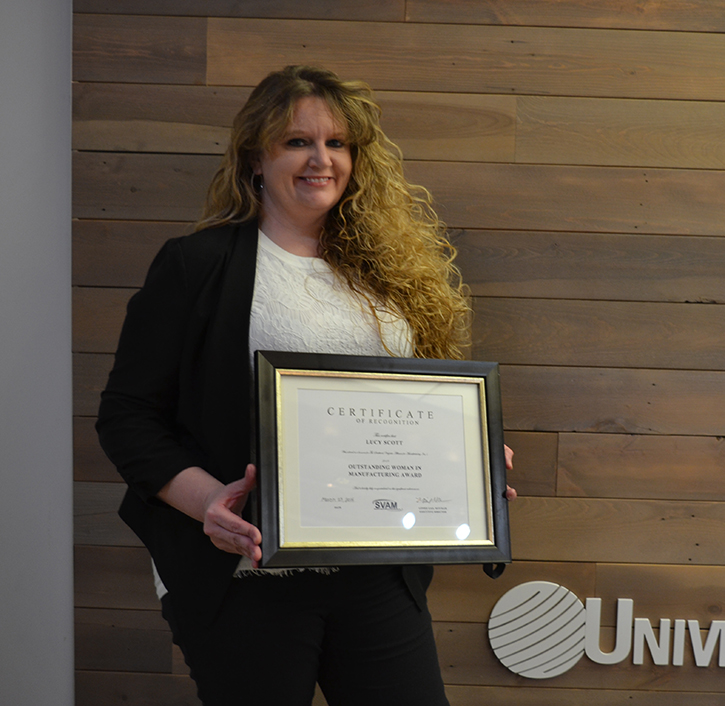 Lucretia "Lucy" Scott
Purchasing Manager
Universal Fibers Inc.
Lucy has made major positive impacts throughout the 13 years she has worked with Universal Fibers – most notably in the past 2 years while managing the companies purchases for all of our global facilities. Her common-sense approach and applied problem-solving abilities have led her to tremendous success with cost savings initiatives. In addition to Lucy's day-to-day responsibilities and noteworthy savings contributions, she finds time to connect with a number of Associates on the factory floor. People see her as very trustworthy and she is always seeking ways to 'make things easier' for her colleagues.
Lucy is the definition of "Servant Leadership". Her humble personality and admiration from peers and colleagues allow Lucy to successfully rally a team of willing helpers for charitable projects. This skill paired with her partnered relationship with suppliers and local vendors has led the company to foster a working partnership that helps feed back into the community. Lucy is a prime example of a Community Champion.
Not only is Lucy a "big sister" mentor for the Boys and Girls Club of the Mountain Empire, but Lucy is an example of how hard work and determination will lead to pathway for success. Starting from a conveyor line operator at Sandvik back in 1997, moving on to working the packing line at Dana Corp. until their facility closed, to sharpening her service skills as a Customer Service Representative at Universal Fibers over 13 years ago, to leading her own department that influences day-to-day spending at a global level, Lucy's persistence and determination is inspiring to others. Along with her undeniable courage and talent, Lucy has always been an absolute joy to work with. She is a true leader as a team player and always manages to foster a culture for positive discussions and bring the best out of others.
Lucy is a truly valuable asset to absolutely any team – honest, dependable, and incredibly hard-working. Beyond that, she is an impressive dedicated leader who is always focused on bringing out the best in others. As a dedicated and knowledgeable team player and an all-around great person who shows a passion for her job, she is a prime example of what an Outstanding Woman in Manufacturing should aspire to be.