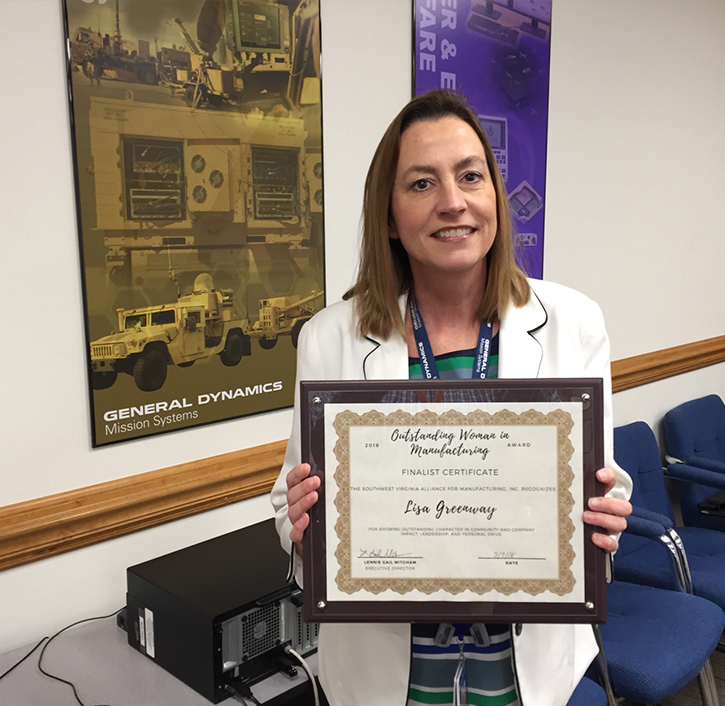 Lisa Greenway
Manager – EHS (Environmental Health and Safety)
General Dynamics Mission Systems
I'm delighted to have been nominated for the 2018 Outstanding Woman in Manufacturing Award, much less being named as a finalist. The award is sponsored by an excellent organization, the Southwest Virginia Alliance for Manufacturing, which covers a regional area approximately the size of Connecticut. I've been asked before if I've ever thought about leaving the industrial community, having been an Environmental Health and Safety Manager in a manufacturing environment for almost 30 years. Honestly, I can't see myself anywhere else. It's very rewarding work.
Lisa has been the leader for EHS in Marion for ten years. During that time she has taken a facility that recorded 55-75 safety incidents per year to one that had only 7 minor incidents in 2017. Also in 2017, Marion underwent a large ISO14001 and OHSAS 18001 EH&S audit with zero findings; an amazing accomplishment for a complex plant with one million square ft and over 500 employees. Lisa has been instrumental in helping General Dynamics Mission Systems achieve its safety and environmental goals.
Not only has Lisa been significantly involved in STEM programs and programs that encourage girls and women to pursue manufacturing, but what could make a bigger impact on the community than ensuring the safety of so many community members, and maintaining responsible environmental stewardship for a major community employer.
Lisa has personally developed and led many programs at General Dynamics in Marion, to include on-site nursing to ensure the fastest possible medical attention and best care for our workforce. She developed, leads, and ensures the training of the on-site Medical Emergency Response Team. She also leads the safety committee and she leads an internal audit program which is key to maintaining high standards.
Lisa is a great speaker and an exemplary leader and mentor for everyone at our site. Further, with a BS in Environmental Science, she is a wonderful role model for women in STEM occupations and women in manufacturing. She has provided guidance and advice to the SVAM Center of Excellence as well as providing her vast experience to a Virginia state-level Manufacturing EHS committee.
Lisa is the ideal leader, with grace, confidence, and professionalism; but more importantly, Lisa is courageous and driven to do the right thing, and willing to evaluate issues with reason and rationale. Lisa is a voracious learner, which has made her an expert in her field, and she uses that expertise to educate others. She is an ideal role model for women in STEM, and Women in Manufacturing.