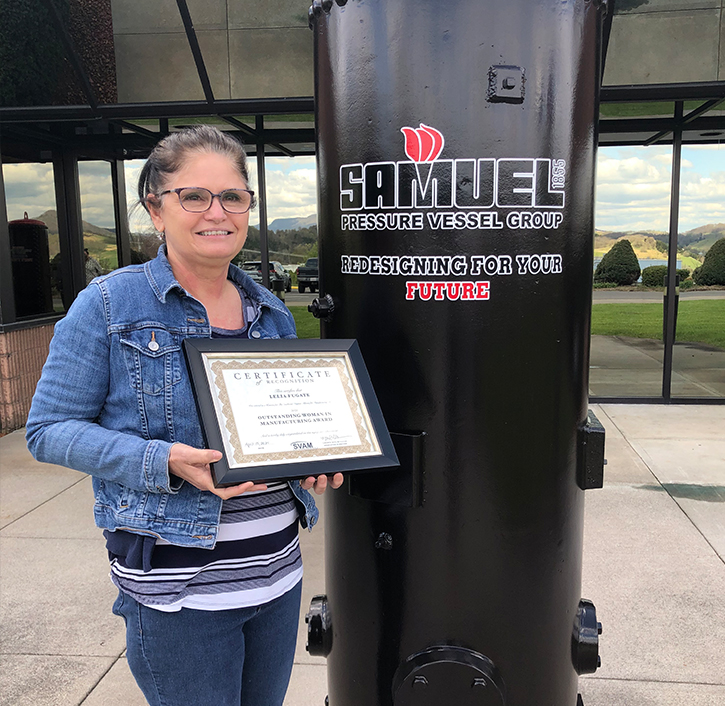 Lelia Fugate
Shipping Clerk/Production Control Clerk
Samuel Pressure Vessel Group
"I was extremely honored to be nominated and recognized as an honoree for SVAM Outstanding Woman in Manufacturing. Samuel is a great company to work for and I really appreciate their commitment to upholding important values such as inclusion and diversity. I'm grateful for all the support and encouragement I have received from everyone at SPVG." – Lelia Fugate
Lelia has been described as on time, organized, and efficient. She has taken on an extra role during the COVID-19 pandemic and has excelled in both her roles with no productivity loss. During these challenging times she has stepped up to the plate to assist her team, ensuring they are productive. Her work and efficiency makes her a reliable co-worker which reduces stress on the rest of her team.
According to her nominator, Shahram Totonchian, "Lelia is a smart, patient, can do attitude, efficient, personal and caring individual. Manufacturing can be a hard industry in these current times but she is unwavering. Lelia is always steady and reliable."
*All information taken from submission nomination form.