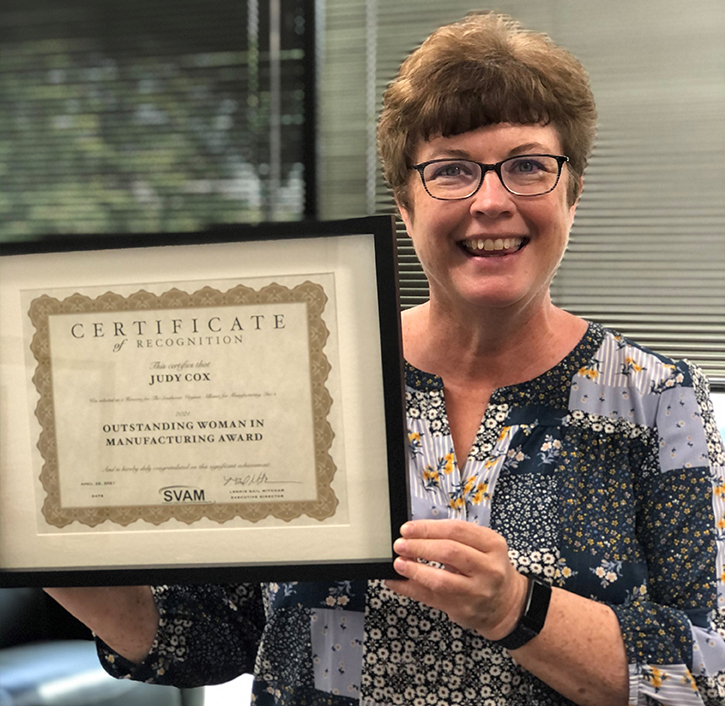 Judy Cox
Finance Manager
Schaffner MTC LLC
"I must say, that I was very shocked to learn that I was nominated for the Outstanding Woman in Manufacturing. I am humbled by this award and consider it a privilege to be considered along with all the great ladies that are currently in this field. I wish to thank my coworkers who nominated me as well as, SVAM for the honor. I would also like to congratulate all women, not only in manufacturing, but all fields. 'You Rock Ladies.'" – Judy Cox
Judy has stayed current with all COVID-19 protocols and PPP Programs. Under her guidance Schaffner MTC LLC has successfully navigated through the pandemic, obtaining a PPP Loan helping to keep their workforce employed during these difficult times. Judy has also maintained a strong cashflow by being fiscally responsible; even though the company's sales intake and shipments have been significantly affected. She has also taken on additional responsibilities within inventory and provided direction for a successful reduction of physical inventory.
During early 2020, a restructuring occurred within the business. Judy graciously took on extra responsibilities of Human Resources Management. Throughout the year, Judy mentored and helped develop an inexperienced associate. She also never misses and opportunity to provide help or training to fellow employees anytime it is needed, anything from Excel to our ERP System.
According to her nominator, Matt Gregg, "In a field typically dominated by males, Judy stands as the only woman on our Management team. Her leadership and knowledge are valuable assets to our company. We are grateful to have such a strong woman on our team."
*All information taken from submission nomination form.