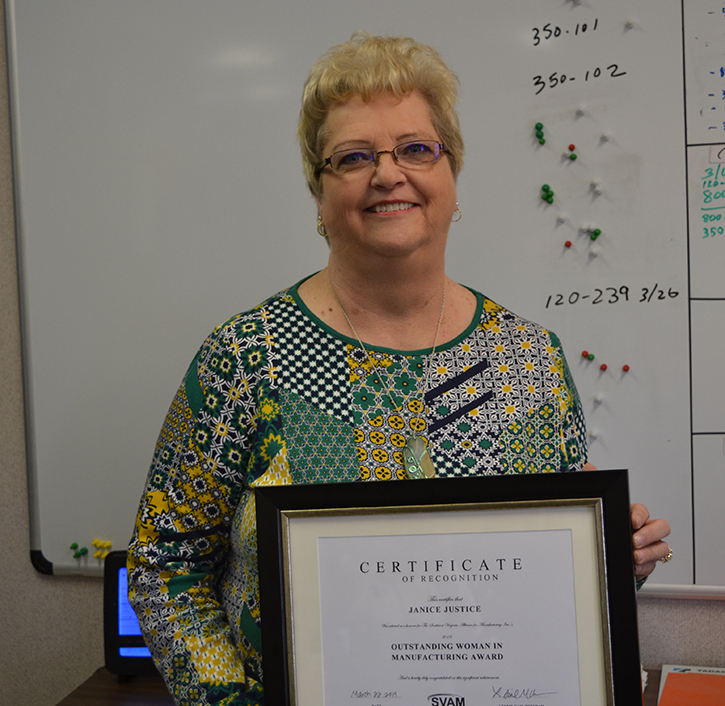 Janice Justice
Administrative Assistant HR & Purchasing
Tadano Mantis Corporation
In manufacturing there are always questions to be answered, directions to be given, and solutions to be identified for a variety of concerns. Whether the day starts with a ray of sunshine or a flake of snow, you will find that Janice Justice is the first to arrive at her office – after all, she is the gatekeeper!
From locating the right vendor to provide appropriate personal protective equipment (PPE) for employees to coordinating a company or community event; it is imperative that the employees and the community feel that someone is there to assist them. Janice Justice does just that – she's available to find a vendor that can provide the service or item needed, when it's needed at a comparable cost. Jan answers and routes all calls, directs human traffic, run errands, prepares mass mailings, designs cake toppers to celebrate birthdays or company milestones, provides assistance to employees at all levels in the company with a myriad of tasks, and she always does it with a joyful attitude that makes you feel that your needs are her most important task of her day.
Jan has a servant heart. She has volunteered at several veteran recognition events, served at a not-for-profit agency for senior citizens, hosted at a hot chocolate and cookie bar for the attendees at a local Christmas parade, and has served as a tour guide and taxi driver to visitors to her hometown from foreign countries like Germany and Japan. Jan believes in her community and is an avid supporter of local events in the county in which she lives and works.
Throughout the year, Jan can often be found at a vendor booth during community events, serving food to seniors, being a celebrity bagger, representing her company at a career fair, or aiding a vendor in showcasing their wares. Jan is always looking for opportunities in which she can support the community, her company and those she interacts with daily.
Jan has worked in manufacturing for ten years and during that tenure, she has trained and mentored many administrative personnel who have been promoted within the company or sought other career paths. Jan has worked company-sponsored job fairs, community B2B showcases, local parades and is always behind the scenes to ensure that the company is showcased in the most positive light.
Jan is an avid supporter of manufacturing and the impact it has on her hometown. Whether Jan is volunteering on behalf of her company as a host at a local performance, helping an employee enroll in benefits, filing a life claim for an employee who just lost a loved one, or assisting with end-of-year inventory counts, Jan demonstrates her compassion for the manufacturing industry and is always willing to do whatever it takes to get the job done in a manner that makes you, the customer, feel good. Jan takes pride in her work in the manufacturing industry. Her work ethic is exemplary.
Outstanding service requires a servant heart, and Jan is always available to help others. She has a strong customer service background and utilizes those skills exceptionally well in her role with the company. It takes everyone working together to make a company successful, and Jan serves her co-workers, vendors, and customer with dedication and a commitment to excellence. When you love what you do, the rest is easy — she makes everything look easy.