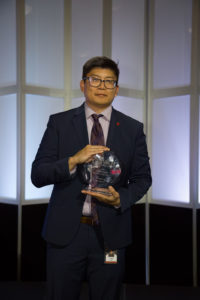 Innovations in Manufacturing – Strongwell
Bristol, VA
Since 1956, Strongwell has been a global leader in FRP manufacturing, boasting four locations with over 65 pultrusion machines, including their largest facility in Bristol, which also houses corporate offices, an International Business Group, and a laboratory, in addition to manufacturing molded grating, fiberglass structures, and pultrusion equipment.
Strongwell played a pivotal role in constructing the world's tallest freestanding fiber-reinforced polymer (FRP) tower, soaring to nearly 200 feet in height. This audacious endeavor was part of a visionary 40-year initiative aimed at revolutionizing wireless energy transmission and addressing critical energy infrastructure challenges.
The Strongwell team behind this monumental project fearlessly pushed the boundaries of FRP's potential, demonstrating its remarkable versatility in the construction of such a towering structure. Their unwavering commitment to excellence and their extensive expertise in pultrusion technology enabled them to overcome unique challenges, ultimately delivering this remarkable project ahead of schedule.
This remarkable achievement not only redefined FRP's capabilities but also underscored Strongwell's pivotal role in driving innovation and progress in Southwest Virginia.
*All information taken from submission nomination form.