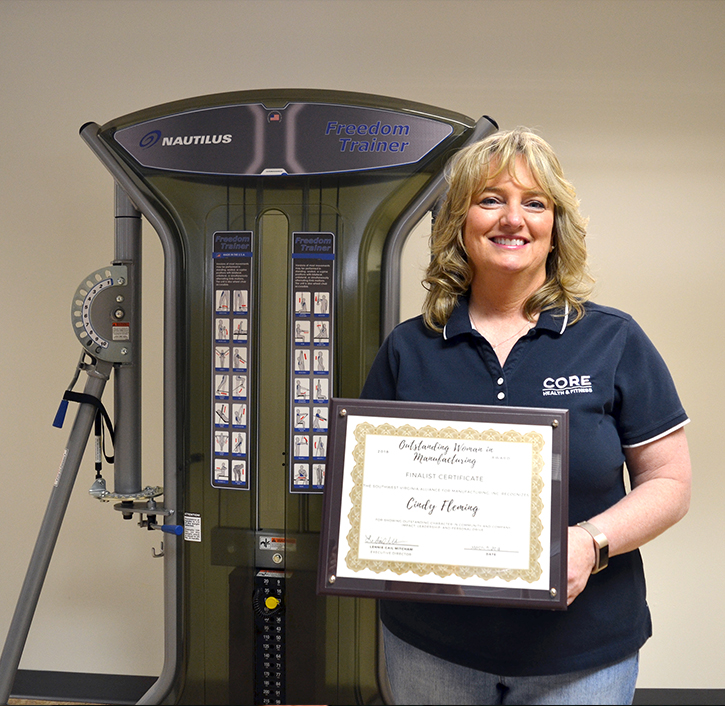 Cindy Flemming
Plant Controller
Core Health and Fitness
I appreciate the opportunity to be a part of an organization that continues to manufacture high quality products in the United States and especially Southwest Virginia.
Cindy has worked with various programs within the State of Virginia to obtain grant funding and support for Core. These grants have been for training, Port of Virginia containers traffic through Virginia Ports, support for job creation, and capital investment. These funds have been invaluable to the success of manufacturing and distribution operations at the facility.
Cindy continues to provide strong financial guidance, reporting and leadership for the company to ensure operations are remaining on course with the highest level of integrity.
In the past, Cindy has been an active participant in Twin County Chamber of Commerce, promoting local businesses and growth in the region. She has been engaged as a business leader in discussions with potential new company relocations to the area through aCorridor Virginia Economic development and has a strong interest in growth for the community.
Recently Cindy has been part of a leadership team at Core to complete Lean Six Sigma Green Belt training and will set for the ASQ certification in the Spring. She led a project to improve utility efficiency in the paint line process that will have a cost savings opportunity of greater than $25,000 a year to the company's bottom line.
Cindy has spent her career of 25 years in the state of Virginia working in the fitness industry as well as furniture – both manufacturing operations – to promote improvement in efficiency, cost, safety, and has been an important leader in each organization.
Cindy has proven to be a strong contributor to the organization's success. She is always wanting to contribute and support the improvement efforts of manufacturing by being involved in the organization at every level.