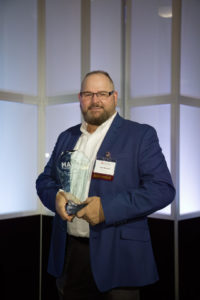 Eric Miller Memorial Award – Sean Blackwell
Safety Coordinator
Hapco Pole Products
Abingdon, Virginia
In April of this year, we mourned the loss of Eric Miller, President of Wolf Hills Fabricators, a man whose passing left a void in his family, his company, our community, and SVAM. Eric had been serving SVAM with unparalleled passion and dedication since 2019.
When we needed a Treasurer for SVAM, Eric stepped forward without hesitation. He took his role seriously, devoting countless hours to tasks like signing checks, conducting bank reconciliations, reviewing annual audits, working on budgets, providing financial reports at Board meetings, and more.
SVAM's success relies heavily on its Board and membership. Eric was one of those individuals we could always count on for support. If he couldn't participate in something himself, he'd readily 'volunteer' his employees. At his funeral, one of his employees said, 'You know, he really loved SVAM.' And we knew he did.
In honor of Eric's dedication, we established the Eric Miller Memorial Award. This award recognizes an individual who has gone above and beyond to support SVAM over the past year, much like Eric did.
Choosing this year's recipient was easy. Sean Blackwell has always expressed their passion and appreciation for SVAM and its mission. He has spoken at multiple Annual Meetings about the benefits of SVAM and supported various SVAM events. When a Board Member position opened up this past year, he eagerly stepped in to serve. When we needed help running the sound board for our Women in Manufacturing Symposium, he stepped up. Sean played a pivotal role in reaching out to vendors for our Manufacturers Expo and brought in additional members for SVAM, showcasing his unwavering belief in the value this organization offers to companies.