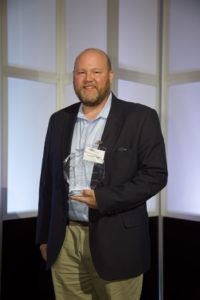 Environmental Excellence – Amcor Rigid Packaging
Wytheville, VA
Amcor is a global leader in developing and producing responsible packaging for food, beverage, pharmaceutical, medical, home and personal-care, and other products.
amcor.com
This industry leader, driven by the motto of "loving plastic, but hating plastic waste," has shown an unwavering commitment to sustainable packaging solutions. They champion the use of polyethylene terephthalate (PET) as an environmentally conscious alternative to glass and aluminum, offering packaging that is 100% recyclable and can be manufactured from 100% recycled content. PET significantly reduces emissions, minimizes waste, and lowers energy consumption, making it a responsible choice for the environment.
With an outstanding track record, Amcor Rigid Packaging has made substantial progress towards its goal of making all packaging recyclable, reusable, or compostable by 2025, already achieving 96% of this ambitious target. They actively collaborate with renowned organizations to boost recycling rates and reduce waste. Their Wytheville facility remains at the forefront of innovation, employing cutting-edge technologies to enhance sustainability, such as light-weighting and an increased use of recycled materials. This company's dedication to responsible packaging is commendable and plays a pivotal role in shaping a more sustainable future for our region and the planet.
"It is truly an honor to be recognized by SAVM for our ongoing efforts at Amcor Rigid Packaging. It's humbling to think that our team in a small but proud town in the western part of Virginia, is making products that impact brands and consumers around the world by reducing greenhouse gas emissions, water consumption, global warming, acid rain, and ozone depletion. We are committed to providing packaging that is more sustainable and environmentally friendly than almost every other option, and proud to be doing this from Wytheville, Virginia.
We are also grateful to be part of such a tight knit, supportive regional collaboration like SVAM.  Few manufacturers have the collective investment in shared success we enjoy being part of the SVAM network of member companies.  We appreciate the resources brought to us and advantages leveraged to our members as they empower us to grow our business and our people." – Christopher Turner, Multi Site Director at Amcor
*All information taken from submission nomination form.