Dana Cupp
Fabrication Supervisor
Tempur Production
Duffield, VA
"Much thanks to the SVAM program for this recognition. I am very excited to be an honoree for SVAM's 2022 Outstanding Woman in Manufacturing Award. I am humbled that one of my coworkers nominated me. I hope that I am a positive influence to the women around me." – Dana Cupp
An employee at Tempur Production for eighteen years, Dana has proven herself to be loyal and trustworthy through her various roles in the company from starting on the assembly line working her way to where she is today as Fabrication Supervisor. Many companies have a technical environment that exists where there is a need for interdisciplinary teamwork and varied skill sets that demonstrate a strong institutional memory and coordinates work processes effectively – she embodies these critical components.
Specifically, during the COVID-19 epidemic, Dana stepped into a second role following the untimely death of her close friend and co-worker to ensure those management duties were covered along with her own. Demonstrating unfathomable adaptability and an impressive commitment to the company's mission, Dana personifies the values of Tempur Production and its mission to improving the quality of life for all customers.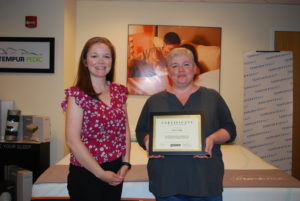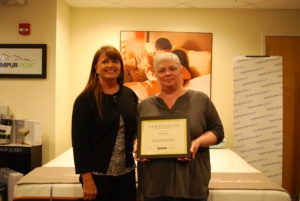 *All information taken from submission nomination form.