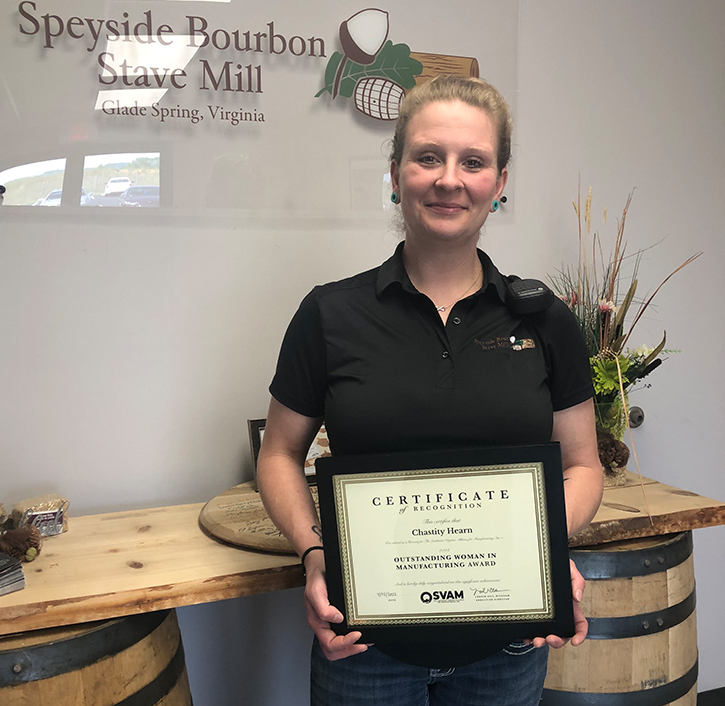 Chasity Hearn
Production Lead
Speyside Bourbon Stave Mill
Glade Spring, VA
"It is an honor to have been selected for the Outstanding Women in Manufacturing award and in such great company with other incredible women! I am privileged to work for Speyside. This award validates that there are no limits where hard work and initiative coupled with a supportive environment exists. I couldn't be more thankful to everyone around me." – Chasity Hearn
From the day Chasity started at Glade Spring she has exhibited a can-do attitude showing great mechanical ability and producing quality work. She started as a Production Operator working on the reclaim edger and was soon after moved to the heart saw. With each new assignment, it has been her attention to detail, the quality of her work, and her speed on the machines that earned her the opportunity to learn new skills and be given greater responsibility. One of the ways in which Chasity has impacted production is her understanding of the flow of production. She is constantly observing and when there is an issue, she is on top of it, keeping us from experiencing periods of downtime. She communicates "up" and she communicates "down". She understands the need to keep everyone in the loop and does so to the benefit of production and morale. She is one of the best quality control inspectors in the company with an eye for detail, she is essential to the process. Chasity has been selected to move up into the position of Mill Supervisor in late spring. She will be training with the current Mill Supervisor until that time. She will serve as Interim until the conclusion of her probationary period in that role, but is fully expected to embrace the additional management responsibilities with the same can-do attitude she has exhibited from day one.
Chasity is now a Lead. She is the only female Lead in the Stave Mill division; soon she will be the only female Mill Supervisor within the Stave Mill division. She is respected by her teammates as an excellent trainer and is always there to pitch in when things get hectic. No task is too big or too small; if it needs to be done, Chasity pitches in to see that it is done and done right whether it is her job or not. She is also an inspector, a position in which she takes great pride and for which she is spot-on, and one for which she serves as an example to other employees. Because she works as hard or harder than any of the other employees she currently
supervises she is respected as both a colleague and a supervisor.
Chasity's nominator, Chris Bailey, summed up why Chasity is an outstanding woman in manufacturing by saying, "First, she excels in a male-dominated manufacturing environment in which the fact she is a woman is not an issue. Chasity really cares about her position and doing the right thing for the company. She empowers her employees and her management style fosters a sense of teamwork and camaraderie. She is good at her job not because she is a woman, but because she is good at what she does. We believe that makes her an outstanding representative of women in the manufacturing environment."
*All information taken from submission nomination form.