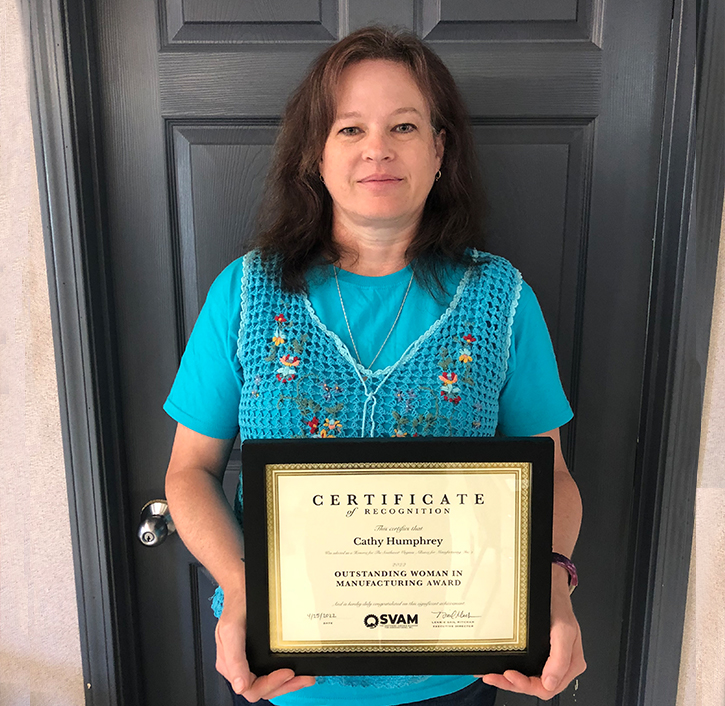 Cathy Humphrey
Production Control Coordinator
Tadano Mantis Corporation
Claypool Hill, VA
"Thank you. I am humbled by this nomination. I am truly blessed and honored to work for a company that has allowed me to grow professionally in such a challenging field. I hope that we can continue to uplift women in the workforce especially in manufacturing!" – Cathy Humphrey
Cathy has responsibilities that include keeping Claypool Hill fabrication/welding/paint operations on schedule and running smoothly. This requires an intimate knowledge of the operations in each work cell, the capabilities of the team members in the work cell, and an understanding of the bigger picture of the production schedule. Highly respected by the leads and supervisors on the factory floor, she runs the daily production meetings and keeps the required data in tip top shape.
Recently, due to an extended absence of another team member, Cathy has stepped up and taken on the additional task of supporting production control for the Richlands assembly operations. She has effectively become the center of master scheduling and production control for both factory operations. This has required new areas to learn and new challenges to tackle which she has accomplished with cheer, professionalism, and a mind for continuous improvement
Cathy has an intuitive sense for prioritizing what is most critical to operation regarding safety, quality, and efficiency. This has improved TMC's ability to react to the ever changing challenges of supply chain deliveries, labor shortages, and customer requirements. It is Cathy's work that makes upper management's role more effective and keeps the shop floor team members engaged and the most productive.
Erik Elzinga, Cathy's nominator, said, "Let's face it, women in a critical and influential role within a manufacturing environment is uncommon. This rarity has not prevented Cathy from becoming an extremely valuable team member. Tadano supports Cathy and her work and will strive to develop her skills into the future."
*All information taken from submission nomination form.