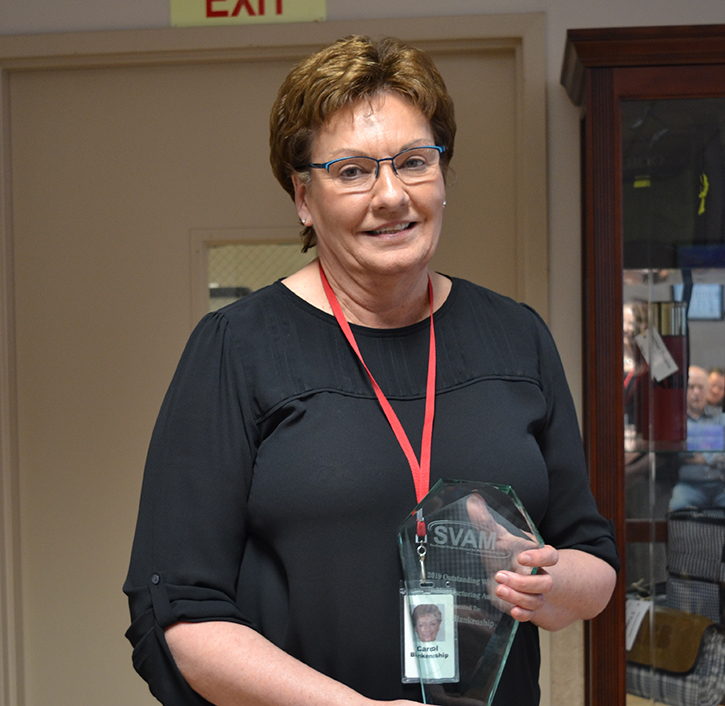 Carol Blankenship
HR Business Partner
ABB, Inc.
Carol Blankenship's energy and resilience is contagious, and she successfully delivers excellence in any engagement. She is an inspiration to all around her and a Great-Company asset. Under Carol's management, the ABB Bland Factory has gone from 12 employees to providing high quality jobs to over 400 employees. Carol promotes best practices in her skills of recruiting, hiring and retaining employees. She always treats employees fairly and has greatly contributed to the reputation ABB holds as a reputable employer.
Carol has demonstrated a commitment to her community by continually sharing her time and talent. For many years, she has given her time and energy to support ABB's Community Outreach by raising funds for Relay for Life, Bland County School's STEM Project and Bland Ministry's Center's Annual Angel Tree and Food Drive. She is also an active member of the St. Paul United Methodist Church in Wytheville, VA where she has served on the Staff Parish Relations Committee, Congregational Care and Family Steward and Visitation Committees. She also donates her time by serving on the New River/Mount Rogers Workforce Development Board.
During Carol's career, she has mentored through Bland County Schools as well as mentored countless employees and assistants. She is a wonderful teacher and exceeds expectations of her because of her impeccable organizational skills and the drive to do what is right. She is held with the up most respect in the HR and Manufacturing Community. She exceeds at balancing the difficult task of looking out for the employee as well as the company. She thinks through processes beforehand and acts accordingly.
Mary Jane Umberger, President HR Alliance, said it the best:
"Carol Blankenship's sheer length of service with ABB-Bland is indicative of her perseverance, dedication and commitment to ABB and its employees. In her 40+ year career, Carol has successfully adapted to changes in local plant management, corporate changes in leadership, ownership and strategic direction and the evolution of the HR profession itself. Throughout those changes, Carol has served as a source of stability for those who work for ABB. Having had both local and division HR responsibilities, Carol has gained both strategic and tactical perspectives and contributed to continuity throughout the organization. She is well-respected by the employees of ABB-Bland, as well as her fellow colleagues in other ABB sites. I think perhaps Carol's greatest professional attribute is her integrity. Carol seeks to do "the right thing" and has served as an effective conduit in maintaining the sometimes delicate balance between representing the needs of middle and senior leadership and employees who work 24/7 on the shop floor. In the face of trying to be a good employer and a responsible corporate citizen, I have heard Carol self-reflect on more than one occasion, "we need to do a better job." What a continuous improvement mind-set. Carol is a treasure-trove of institutional knowledge."