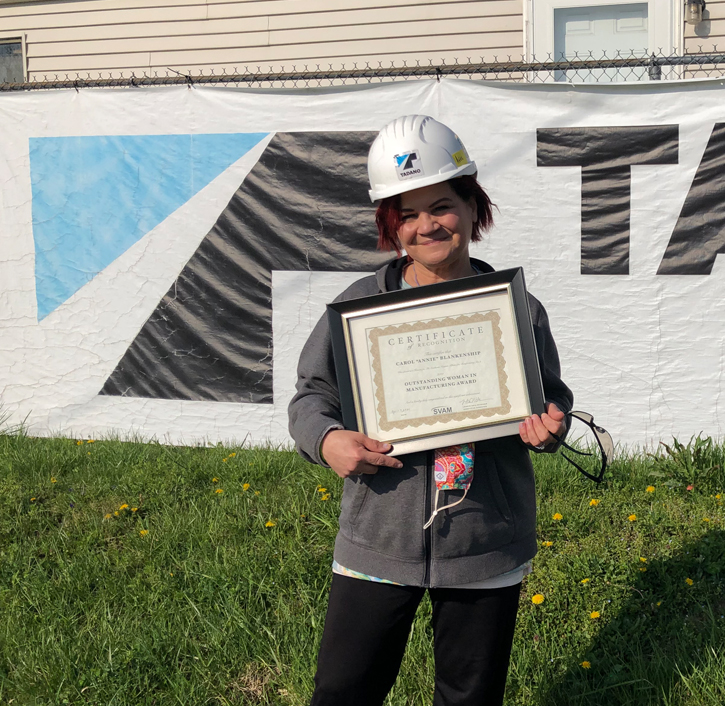 Carol Blankenship
Shipping & Receiving Clerk
Tadano Mantis Corporation
"I am humbled to be recognized as an honoree of SVAM's Outstanding Woman in Manufacturing for 2021. I wish that I could take credit for this achievement on my own, but the truth is that what I have learned thus far and what I continue to learn is a direct result of the wonderful leadership that I have the pleasure of working for, and every department within our Richlands location. While women are not quite where they should be in the manufacturing industry yet, I have no doubt that in time they will be. It is companies like Tadano Mantis that continue to pave the road with new opportunities for women in manufacturing. I am beyond blessed to be part of this organization. Again, thank you." – Carol "Annie" Blankenship
Carol "Annie" Blankenship is responsible for a variety of tasks including operating a forklift to unload shipping containers and placing the product inside the warehouse in the designated warehouse space. She is also responsible for data entry of customer orders, picking and packing parts and supplies to be shipped either with the crane or via separate method to the customer and maintain accurate data entry into the appropriate software to manage and track inventory.
Annie has worked most recently on the quality team to help identify how and why the parts being shipped between plants were arriving with damage after being cleared for use. She is also an active participant on the Safety Committee and the Core Value Team.
Annie is always focused on working as a team to help improve process whether it is part of the administrative tasks in the Warehouse or identifying root cause through observation and analysis, providing insight on safety-sensitive situations, or volunteering in community events to represent TMC. Annie strives to find ways to encourage and support her co-workers. Annie's compassion for her fellow employee brings "family" to each employee's daily life exemplifying that we are "stronger together."
According to Dedra Helbert, "Manufacturing, at the factory level, has been a predominately male, especially in the crane industry. Annie is passionate about helping others, freely sharing her ideas on safety, quality and efficiency, and she is able to utilize her prior work experiences in the military, corrections and the coal industry to quickly, and in a non-threatening way, make others feel comfortable in working with her on projects."
*All information taken from submission nomination form.