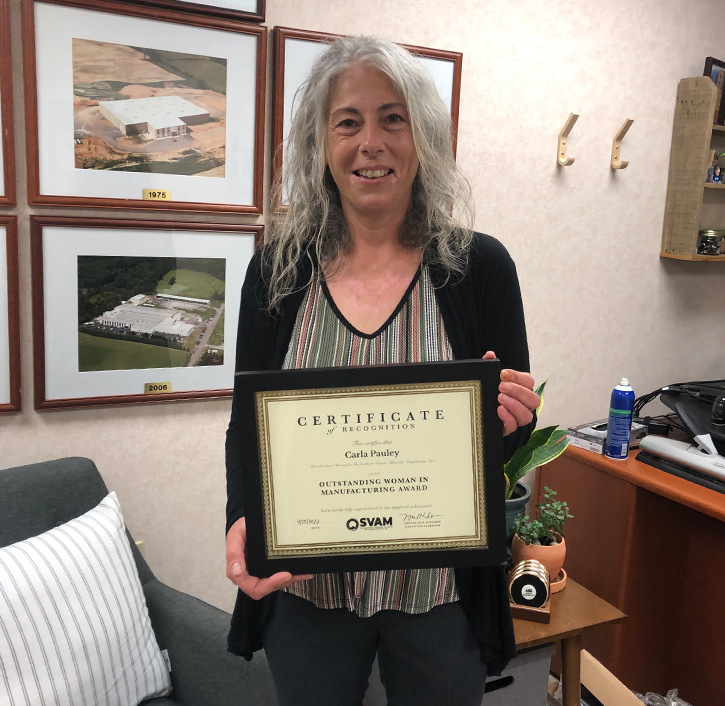 Carla Pauley
Customer Support Manager
Hitachi Energy
Bland, VA
"It was a pleasure and surprise to be selected as an Honoree by SVAM as an Outstanding Woman in Manufacturing. This recognition is both motivating and humbling, reminding me that the work I do matters." – Carla Pauley
Carla is an integral part of Hitachi Energy as a leader in the post order execution team called Customer Success. Carla and her team successfully work with customers and are the liaison between front-end sales, manufacturer's representatives, OEMs and Hotachi Energy's end-users to successfully deliver products to customers and generate revenue for the business. Carla and her team act as the voice of the customer back into the production facility where Hitachi Energy manufactures dry-type transformers that are critical to the infrastructure of our energy systems and power grids around the world.
Carla leads one of the more critical customer-facing functions within the business. She has recruited, hired, and trained several women on her team who have all grown to become well-respected contributors to the success of the organization. Recently, Carla hosted three women from another Hitachi Energy facility for multiple days where she offered guidance and advice in employee management, accounting functions that were inclusive of overdue invoices/dispute resolution and general account management. All three were women in drastically different stages of their careers, but Carla was able to connect with each to suggest improvements and encourage career development and personal growth. Carla also promotes young talent through internships to attract a new generation in manufacturing.
Carla empowers her team to make decisions and complete their work. She is open and available when questions arise, or the path forward is unclear. She promotes young talent through internships with college students. She also works with employees from other sites to help further their careers.
Carla has been a long-standing employee of Hitachi Energy for over 30 years and defines hard-work, longevity, commitment and loyalty to the company and its employees. She embodies the characteristics of an ideal leader in any organization. Through perseverance and commitment, Carla started with the organization in a temporary role early in her career and embraced each opportunity she was given to become a significant contributor and leader in the business. Today she manages multiple people and is often the "GO-To" person in the Bland, VA facility. She has expertise in many areas such as operations, supply chain, finance, engineering, customer engagement and quality assurance. She has worked her way up through the manufacturing environment to become the leader she is today. Carla Pauley is the hallmark of the ideal employee.
*All information taken from submission nomination form.