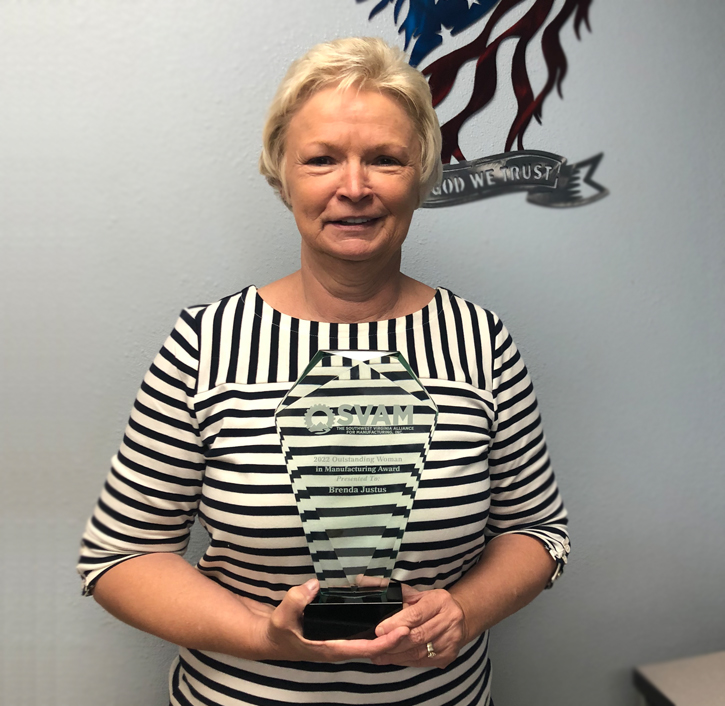 Brenda Justus
President/CEO
Consolidated Steel, Inc.
Cedar Bluff, VA
Brenda has dedicated her life to creating and sustaining manufacturing jobs in Southwest Virginia. She founded Consolidated Steel and has grown the company from a handful of loyal colleagues that left a rival company to nearly 100 employees today. Because of her steadfast leadership and tireless devotion, the company has grown yearly despite some tough economic conditions from 2008-2016. Every equipment purchase, building expansion, and growth realization has been funded 100% by her reinvestment into Consolidated Steel. No state or federal grant or loan money has ever been used to grow her company.
Brenda leads her company by example. She does not use a back office, instead she sits in a cubicle directly beside her teams of sales, production, and quality personnel. She is directly involved in nearly every decision. She treats every employee like family. When business has been slow, she finds work, even janitorial jobs to keep manufacturing personnel occupied instead of considering layoffs.
Branda's nominator, Scott Matney, summed up why Brenda is this year's Outstanding Woman in Manufacturing by saying, "There is no other woman in Southwest Virginia that has dedicated themselves to this region, or this industry like Brenda Justus. The growth Consolidated Steel has realized under her leadership is the most measurable example of her efforts. She should be your nominee however, for how she interacts with everyone else. She is uplifting and endlessly supportive. Everyone that comes to work here at some point has said: 'I've never worked for anyone like her before'."
*All information taken from submission nomination form.
A picture will be uploaded once the award/certificate has been presented at her company