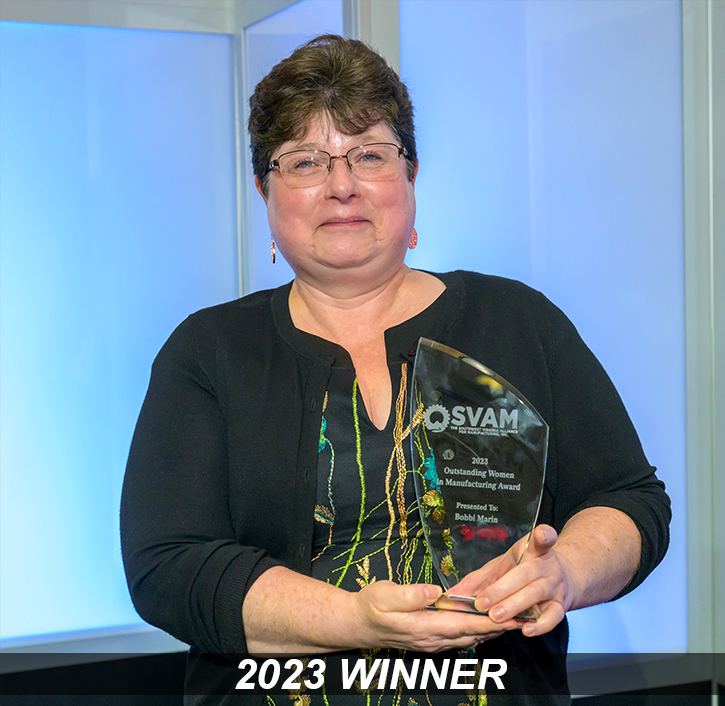 Bobbi Marin
Document and Data Control
Somic America
Wytheville, VA
"It is my great honor to be among those who accept the Outstanding Woman in Manufacturing Award for 2023. I know that there are many first-class women making a difference at all levels in manufacturing in South West Virginia. Hourly or salaried, we all strive to be outstanding in what we do, to make our companies successful. I will proudly display my award, and try my hardest to support other women in manufacturing see themselves as valuable for their contribution to manufacturing as a whole." – Bobbi Marin
Bobbi was nominated by Josh McPeak, Quality Manager of Somic America. Josh had the following to say about Bobbi:
Bobbi has been with Somic America for 23 years. She began her Somic career in our Maine factory and transferred to the Virginia plant in 2018. Her work ethic and passion for her position is second to none. She has been a rock for the Quality Management System and overseen the document control development and process with impeccable fashion. She has seen the Quality Department evolve and change in many ways over the years. She has been a driving catalyst for continuous improvement in the document control and management processes.
When new team members or existing team members need training, she is the first to offer her services and strives to make her fellow teammates better. She is the type of person that not only creates positive change but makes a lasting impact in the workplace. Most individuals in the manufacturing field dread to hear the word… "Audit". Not Bobbi. She is methodical and thorough in her approach to her role – leaving no stone unturned. She excels during those stressful times and is a key reason SAI remains IATF compliant and accredited. Her confident and composed demeanor provides a calming effect to the audit environment.
When Somic America team members are in a time of need, the company comes together in support. Bobbi is always front and center during these activities, loving to volunteer for worthy causes. She makes huge contributions in the form of time and her creativity in contribution to the basket raffles, which support fellow co-workers in difficult times. She is a giver. A true contributor. She also makes a killer "no bake cookie" – it was one of the hottest sellers at the Relay for Life Bake Sale here at the plant.
When I think about the qualifying criteria that the committee likely looks for in selecting this award recipient, I am certain that Bobbi is the perfect example of an Outstanding Woman in Manufacturing.
*All information taken from submission nomination form.