2023 Women in Manufacturing Symposium Press Release
March 13, 2023
in
2023
,
Featured
,
Footer Latest News
,
Latest posts
,
Manufacturing
,
Manufacturing Awards
,
Manufacturing Events
,
News
,
Posts
,
Press Releases
,
SVAM
On Wednesday, March 8th, The Southwest Virginia Alliance for Manufacturing (SVAM) hosted its annual Women in Manufacturing Symposium in celebration of International Women's Day. The Symposium is held to celebrate and recognize women's contributions, value, and future in manufacturing. Furthermore, the purpose is to promote the career opportunities women can pursue in the manufacturing industry.
This event is one way SVAM is working to fulfill its goal of changing perceptions regarding manufacturing and increasing the number of individuals pursuing manufacturing careers.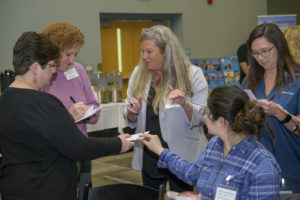 Participating employees were encouraged to make connections, get to know one another better, and expand their network through open networking time. Attendees played networking BINGO to get to know one another better and win prizes.
Kristin Goff, Senior Project Manager for Volvo Group in Dublin, Virginia, provided the keynote speech. Kristin's keynote address focused on encouraging attendees to "pack your GRIT and help us even the playing field." Kristin explained that GRIT was an acronym which stood for Growth Mindset, Reflection, Intelligence (Emotional), and Toughness. She talked about her own journey through success and failure to do this for herself.
A panel, comprised of women at various levels of their careers in manufacturing, spoke about their career paths, overcoming challenges, celebrating their successes, and encouraged women to pursue and develop their careers in manufacturing. Panelists were Chasity Hearn, Production Supervisor at Speyside Bourbon Cooperage, Ragan Proffitt, Manufacturing Engineer at Wolf Hills Fabricators, Frances Pung, Quality Manager at Strongwell, and Melanie Protti-Lawrence, President of Lawrence Brothers, Inc.. Panelists answered questions from the audience during a Q&A about what manufacturing looks like today, how to encourage more women to pursue careers in manufacturing, and career opportunities currently available.
SVAM recognized winners and honorees of its Outstanding Women in Manufacturing Award. SVAM gave this award in three categories this year. The winner in the management category was Shelly Wiseman, Materials Manager at Strongwell. The winner in the Administrative Support Category was Bobbi Marin, Document and Data Control for Somic America, Inc. The winner in the Hourly/Production Category was Nancy Hicks, Production Coordinator for Shearer's Foods. Honorees of the award received certificates of recognition.
Attendees left energized, motivated, and excited. One attendee said, in her evaluation, "This event made a huge impact on how I think about women in manufacturing. I was so proud to be in this group, and I am even more committed to help my sisters with their careers and dreams!"
Journie Woods, 12th Grade, Union High School Student, said, "The event yesterday inspired me by knowing that other women are interested in or do the same jobs that I enjoy, which are Welding and Manufacturing. I particularly enjoyed the real-life stories of what they have achieved, how they got there, and the stresses they endured… My takeaway would be the numerous opportunities in manufacturing that I have within the bigger region…"
SVAM would like to thank the sponsors of the event: The Joint Industrial Development Authority of Wythe County, Mountain Empire Community College, Mount Rogers Regional Partnership, Virginia Highlands Community College, The New River/Mount Rogers Workforce Development Board, Appalachian Council for Innovation, OpX Solutions, Washington County Chamber, The Southwest Virginia Higher Education Center, and Genedge.