2023 Manufacturers' Expo Press Release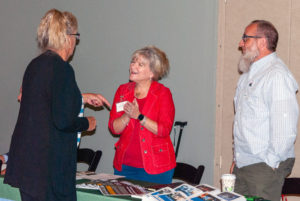 On August 31, the Southwest Virginia Higher Education Center in Abingdon served as the venue for SVAM's yearly Manufacturers' Expo. This gathering united Southwest Virginia's manufacturing community, including vendors and suppliers, in a collaborative setting designed for networking and education. Participating manufacturers showcased their businesses through booths and exhibits while engaging with other industry players and service providers. The event served as a platform for local manufacturing firms to expand their supply chains, showcase their expertise, explore new business avenues, and discover valuable resources to fortify their operations. This year's Expo saw attendance from representatives of 17 manufacturing companies and a diverse array of vendors and resource providers offering specialized services to the manufacturing sector.
The Expo also featured two timely breakout sessions. The first, titled "Making Decisions and Navigating Risks," was led by Dr. Zachary Collier, an Assistant Professor of Management at Radford University's Davis College of Business and Economics. The second session, "Make or Buy: How to Choose (It isn't as Easy as Flipping a Coin)," was presented by Dr. Cheryl Carrico, Engagement Manager at GENEDGE.
Rhonda Holt of Samuel Pressure Vessel Group, a long-time attendee, said, "The annual SVAM Expo is a day of networking and learning that I look forward to each year. I have attended the Expo for the past nine years, and every year I leave with great business leads, new contacts, and fresh ideas. Being able to collaborate with area companies helps us all be more successful."
This year's sponsors:
Gold Level: Virginia Highlands Community College, Southwest Virginia Higher Education Center, New River/Mount Rogers Workforce Development Board, Southwest Virginia Workforce Development Board, Appalachian Council for Innovation, Real Performance Machinery, Merrick & Company, Somic America, Inc., Baker Donelson
Silver Level: OpX Solutions, LLC, GBC Wellness Center/MedFit Center, Mountain Empire Community College, Western and Southern Life, Mount Rogers Regional Partnership, GENEDGE
Bronze Level: Virginia Coalfield Economic Development Authority, Hungate Business Services, Appalachian Environmental Resources, Virginia Economic Development Partnership (International Trade), AM Training Management, Southwest Virginia Community College APEX Accelerator
SVAM would like to thank everyone who participated in making the day a great success!