2019 Southwest Virginia Manufacturers' Expo
On August 13th, at the Southwest Virginia Higher Education Center, SVAM hosted its annual Manufacturers' Expo. The sixth annual Expo welcomed manufacturers, vendors, and resource providers. This event provided an excellent opportunity for manufacturers to network and share ideas. 17 manufacturers from across Southwest Virginia, representing a wide variety of products and company sizes, attended this year's Expo. This was in addition to resource providers and vendors. This led to better awareness and exposure of other manufacturers in the region, allowed manufacturers to connect with valuable resources and possible suppliers, and was a way of making local contacts. The day was structured with several blocks of networking time to fulfill these goals. Several manufacturers and organizations also took the opportunity to give brief presentations about their companies at the event.
Breakout sessions were offered by Volvo and Scholle IPN Packaging. Volvo hosted a breakout session titled, "Advanced Manufacturing Technologies & Adapting the Culture of Manufacturing" and shared some exciting things happening at their facility. They also brought a VR demonstration to enhance their presentation. Scholle IPN Packaging hosted a breakout session to share about their successful employee engagement and continuous improvement programs.
The event was a great success. One attendee noted, "The event was well organized and the attendees were positive and excited." Another mentioned, "Networking was fabulous, we had several customers in attendance."
SVAM would like to thank all the participants of this event, especially the sponsors: GENEDGE, who also offered free headshots for those in attendance, SWCC Procurement Technical Assistance Center, Joint IDA of Wythe, and Virginia Coalfield Economic Development Authority.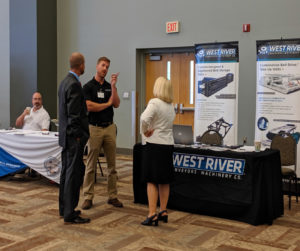 "Continuous improvement is a core tenant of our business model and we look forward to the fellowship and industry knowledge shared at each and every SVAM sponsored event. Our first expo experience introduced us to one of our most valued vendors. Through this relationship and additional product offerings, our sales have increased 25%. I would highly encourage participation in the SVAM Manufacturers' Expo!"– Pete Savage, West River Conveyors and Machinery