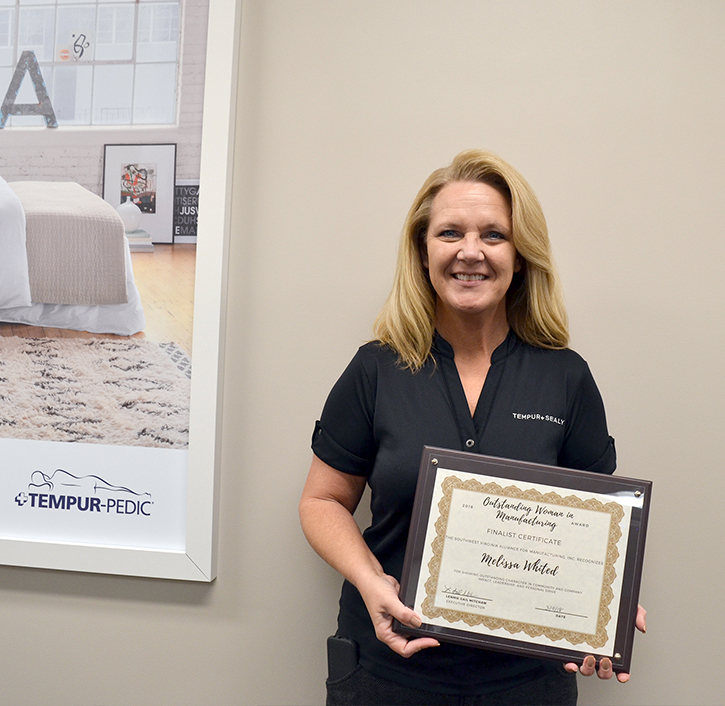 Melissa Whited
Production Control Coordinator
Tempur Production, USA
It's recognition that I am on the right path; that showing respect to others and following my heart does work; However being recognized by your peers and higher management is an extraordinary moment. For that I am truly blessed. Now I would like to take a moment to thank Southwest Virginia Alliance for giving this award out the last 5 years. There are many hard working women in this region. What a wonderful job you must have to know that this organization has placed a smile on so many women's faces, who have received this award.
Melissa has been involved in several key projects, participated in Kaizen events and worked with the quality department to ensure better communication to help maintain inventory in the quality warehouse. She has launched new processes and ensures individuals received needed training.
Melissa has been an integral part of the success of the production department. Since assuming the role of Production Planning Coordinator in 2016, she has created a training catalog for our primary production scheduling tool, trained leads in the classroom and on the job on how to use this device. Melissa assisted the Information Technology Team with the institution of the Radio Frequency Smart System in Duffield. This is used for both production and inventory, as well as trained operators. This is an invaluable tool for our facility to have accurate and precise inventories and to be able to accomplish taking inventory to a higher level of efficiency than has been achieved in previous years. Melissa traveled to our Albuquerque New Mexico facility to work with IT to launch a new system and provide necessary training.
Melissa is a kind and caring person. There is no doubt that her treatment of others in the workplace has impacted them beyond the walls of the building.
To say she would go above and beyond to assist anyone in her home town/community, is gained from the positive, generous and knowledgeable attitude she gives her place of employment daily. One is the better for knowing her.
Melissa has shown great initiative to learn new systems and to take advantage of learning opportunities. She never hesitates to take advantage of any training course at her disposal, to better her position in the facility. Melissa's pride and passion shows in her daily contributions at the facility.
The coaching and mentoring Melissa has provided to the team leads, as well as the production employees has been invaluable in empowering our employees with a greater sense of understanding of what is required of them in their roles. She serves as a resource for the team and is there for support and guidance to help the team be successful.
Melissa's day to day leadership in production planning has made her a valuable asset to both production sites. She keeps an "open door" attitude to better aide and assist any employee that may need assistance in their daily tasks. Her positive and effervescent attitude spills into each employee's attitude to achieve their highest level of performance. Her team looks to her for guidance, support and leadership, of which she does not fail them. It's an understatement to just say Melissa is a leader; she is a shining example of what any production facility would look for, want and need in a production planning coordinator. She's a self-starter, task and detailed oriented worker which makes her overall a worthy recipient of an Outstanding Woman in Manufacturing.
"When considering our nominee of Outstanding Woman of the Year, Melissa was unanimously endorsed by our entire management team. For her dedication, her importance to our day to day operations, her role of mentoring new leads, her ability to implement not only the technical aspects of the role but maintain those vital aspects of motivating and building teams. Melissa is perfect for our nominee and has shown her worthiness in the past 14.5 years. She is very deserving to be the Outstanding Woman of the Year." – Randy Peterson, Production Manager, Tempur Production, USA