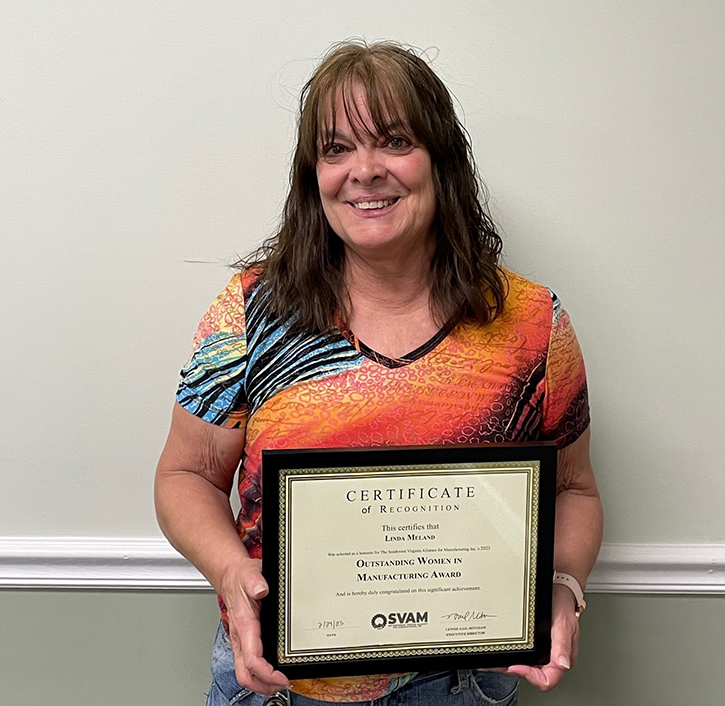 Linda Meland
Quality Manager
Scholle IPN (part of SIG)
Chilhowie, VA
Linda was nominated by Melinda Roberts, HR Manager at Scholle IPN (part of SIG). Melinda had the following to say about Linda:
Linda is in a critical role that helps sustain our customer satisfaction with our product. This includes daily audits, managing a team to include hourly Quality Auditors, Quality Coordinator and two Quality Engineers. Linda travels to customer sites at times to work thru problems and provide a great partnership with our customers. Linda leads our company audits associated with our customer requirements in which we must maintain an excellent score as part of doing business with them. We have a "Safety, Quality, Food Audit" annually and a "Social Principles Audit" every two years in which she has been instrumental in helping us achieve almost perfect scores. She assists with he sustainability of the plant and spearheading the efforts to recycle and lowering our carbon footprint.
Linda is always willing to help employees in the support staff positions and also hourly employees at the machines. She will work long hours, whatever it takes to get the job done and to make sure that our employees have the resources they need to accomplish the task at hand.
Linda has worked in different positions in her career from the ground up and has the credentials as well. She is dedicated to supporting the employees and Plant initiatives and goals. She works tirelessly to make sure that the customer experience is always beyond the standard. She ensures that the quality department is available to assist in any way. Linda is a vital part of the success at the Chilhowie Plant.
She always says, "Safety first and quality always" and she means that.
She is well respected by her fellow co-workers.
*All information taken from submission nomination form.